Minister of Environment, Mrs Amina J. Mohammed, on the occasion of the 2016 International Day of Forests in Abuja on Monday (March 21), stresses that forests are key to the planet's supply of fresh water which is essential to life. She laments the alarming rate of deforestation and forest degradation arising from intensive logging for timber and fuelwood extraction, even as she listed a range of measures to address the situation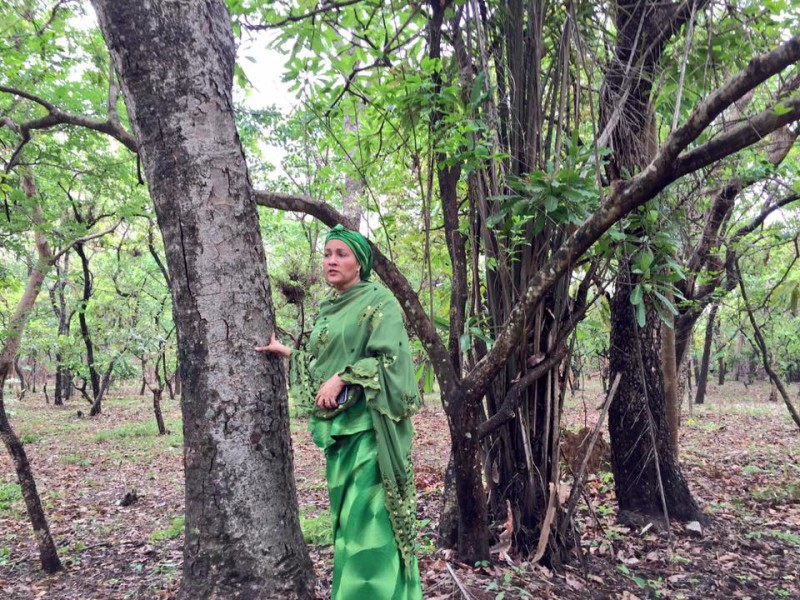 Forests play a great role in gathering and releasing water for the maintenance of the habitats of flora and fauna. Forested watersheds and wetlands supply 75% of the world's accessible freshwater for domestic, agricultural, industrial and ecological needs. Forests reduce the effects of flooding, dry land salinity and desertification. Records show that 1.6 billion people depend on forests for livelihoods, medicine, fuel and food. Forests cover one-third of the earth's land mass, contributing significantly to reducing soil erosion and the risks of landslides, avalanches and other natural disasters.
Unfortunately, climate change is altering the capability of forests in regulating water availability and quality. Also, large scale deforestation, which on record is 13 million hectares annually, impacts on precipitation pattern and water regulation. Removal of tree cover accelerates water discharge, increasing the risk of floods during the rainy season and drought in the dry season. Deforestation contributes to 12-20 % of the global greenhouse gas (GHG) emissions. The availability and quality of water in many regions of the world are more and more threatened by overuse, misuse and pollution, and it is increasingly recognised that both are strongly influenced by forests. Consequently, nearly 80% of the world's population is exposed to high levels of threat to water security.
The deplorable condition of our forests in Nigeria is alarming. Across the various states, there is alarming rate of deforestation and forest degradation arising from intensive logging for timber and fuelwood extraction. Many states now see the forests as a main source of revenue generation and yet little or nothing is being ploughed back for forestry development. The activities of timber merchants (both indigenous and foreign), especially those involved in illegal logging, continue to worsen the situation and on a daily basis, hundreds of containers of wood are carted away from our forests across the country. Currently, Nigeria's percentage forest cover is less than 6% as against the FAO recommended 25% of total land area. This calls for urgent attention.
To address the situation, the Ministry will soon convene an emergency Forest and Biodiversity Dialogue with relevant stakeholders, which will include all State Commissioners of Environment, Directors of Forestry, Customs, Ministry of Finance, relevant NGOs, etc. The forum will seek to review associated challenges of forest governance and legislations across the states and come up with appropriate recommendations for actions at the next National Council on Environment.
There are plans to review of the National Forest Policy and consequently enact the National Forest Law. This is to ensure, among other things, certification of wood and also to ensure that illegal loggers pay adequate and appropriate penalties for infractions. Government will resuscitate the National Forestry Development Committee (NFDC) in order to partner with the states to move the forestry sector forward. Indeed, partnership is key in the preservation and conversation of our forest resources.
The ban on export of round wood (unprocessed logs) is still in force and compliance will be enforced while the Ministry will continue to interact with the Processed Wood Producers and Marketers Association of Nigeria so as to ensure that they comply with the rules and regulations. I am glad to note that some members of the Association are present at this occasion.
In collaboration with the state governments, the Ministry will map out strategies for curbing indiscriminate logging in our forests while a comprehensive national forest and biodiversity assessment will be embarked upon to provide the required data for sustainable forest management in Nigeria.
In an attempt to gradually increase the national forest cover from the deplorable less than 6% to the internationally recommended 25%, the Ministry will continue to collaborate with relevant agencies to embark on nationwide afforestation in the coming years. Thus, from this year, the Ministry is having a collaborative partnership on afforestation with the NYSC. The programme is expected to deliver about one million trees annually through the participation of Youth Corp Members nationwide.
Similarly, government will strengthen the activities of the Nigeria Erosion and Watershed Management Project (NEWMAP), the management of Nigerian wetlands ecosystems and the National Agency for Great Green Wall (NAGGW) to enable them deliver greater and better outcomes.
As a means of reducing pressure on our forests due to fuelwood extraction, the Ministry will partner with relevant agencies of government to work out the modalities for the provision of alternative sources of energy and improved wood stoves for our rural population. Government will intensify environmental education in schools and roll out a new public awareness programme on forest conservation and community participation.
As government continues to play its role, we all need to do our own bit in ensuring that we halt deforestation. I urge you to plant and protect trees in your homestead, farmlands, offices, schools and public institutions and endeavour to preserve and sustainably use forests and wetlands resources in order to ensure steady and safe water supply and other benefits.
I reiterate our commitment to ensuring the protection of our National Parks, especially the Ekuri Forest.