Crowds of densely packed, barefaced, droplet-swapping Americans are forming on beaches, bar patios and pool decks over the Memorial Day weekend, fulfilling the fears of health experts who warned the nationwide relaxation of restrictions would help the coronavirus spread.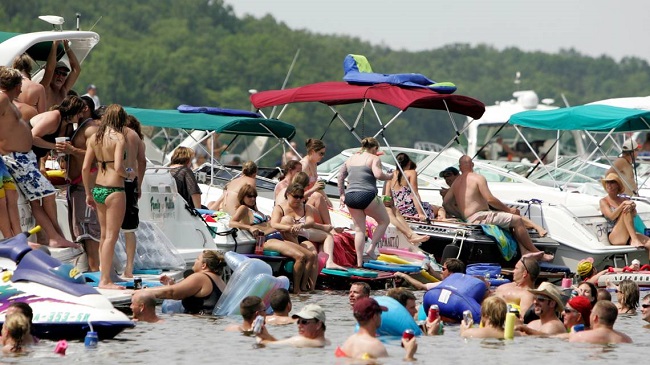 With 1,681,677 cases, the U.S. has so far recorded 99,200 deaths, according to www.worldometers.info.
The most dramatic images came from Missouri – still in the midst of a local epidemic – where vacationers flocked to the Lake of Ozarks, and appearing to ignore social distancing.
"In one picture shared by news station KSDK, dozens of people could be seen crammed on an outdoor patio underneath a sign reading, 'Please practice social distancing'," wrote The Washington Post wrote. A nearby bar and grill advertised a pool party for hundreds of people called "Zero Ducks Given."
Thick crowds were also spotted at beaches along the East Coast, on a weekend when American flags flew at half-staff in memory of the country's nearly 100,000 confirmed victims of the virus.
In Arkansas, Gov. Asa Hutchinson (R) said a recent high school swim party contributed to the state's "second peak" of infections but still encouraged residents to venture out.
"We take the virus very seriously," the governor told Fox News. "It's a risk, it causes death, but you can't cloister yourself at home, that is just contrary to the American spirit."
Meanwhile, grocery stores have been accused of suppressing information about outbreaks among their employees.
The Post interviewed dozens of current and former employees at more than 30 supermarkets who alleged that cases of infected or dead workers were covered up and managers retaliated against employees who raised concerns.
More than 100 infected workers were discovered at two Walmarts in Massachusetts last month — only after local health officials investigated and tested the entire staff.
Roving bands of unusually aggressive rats have prompted a warning from the Centers for Disease Control and Prevention. Like many other animals, rats have adapted their behaviour in the absence of humans.
In this case, a lack of edible street trash has made them desperate with hunger – driving some rats to cannibalism.