With a population of about 150,000 people, the Ajuwon and Akute communities located in Ifo Local Government Area of Ogun State are long due for total development.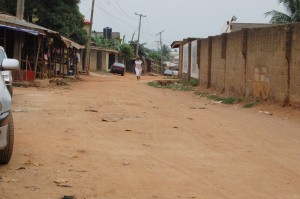 The two communities bordering Lagos State share cultural identities with the people of the Iju-Agege axis of Nigeria's former capital city.
Despite their proximity to Lagos, the twin communities are still far behind in terms of infrastructure.  Such amenities like good road network, public libraries, housing scheme, regular power supply and pipe borne water are still largely absent in the communities which have continued to grow due to their proximity to the nation's commercial nerve centre.  As a matter of fact, more than 40% of the residents in these communities have daily contact with Lagos where they earn their living.
The two communities are largely rural, based on the type of houses and lack of basic infrastructure there.  Major parts of the only tarred road connecting the communities initially fixed by the Lagos State Government have already failed while there are no other tarred roads within the area.
"There is a little government presence in this locality as you can see; the local health centre, the post office and this Local Government Area office are only what we can point to for now. There is also a branch of a commercial bank (Zenith Bank) over there," said Mr. Adewale, an officer at the Local Government Area Office, who decried the poor state of the road linking the communities to Lagos State.
"This road is used mainly by Lagos people and we want them to fix it, because they caused the major damage," Adewale complained, adding: "You will not notice that there is a gas pipeline which convey gas to Lagos State under this failing road, there are water pipes also from the Iju Water Works few kilometres away but we in this community do not benefit from both the gas or water, the water pipes are dry and are of no benefit to us despite the fact that the a mega water works is located at our backyard.  We are so close to the water works but it supplies water largely to the Lagos area."
"Water has no enemy," said the late Afro Beat King, Fela Anikulapo Kuti, in one of his ever green titles, but with the Iju Water Works just at the backyard of these two communities and water pipes beneath them which are virtually of no benefit, water may have since chosen its friends and enemies.
Ajuwon-Akute is populated by low income earners, artisans, commercial cyclists, drivers and people who have found cheaper landed properties and accommodation away from neighbouring "highbrow" Lagos.  Quite a lot of these houses are bungalows and in some cases one or two storey buildings some of which are practically begging for renovation.
Pipe borne water is absent while the population survives on wells, though some privileged few could afford sinking boreholes. Power supply is grossly inadequate which makes the cost of running the boreholes a bit on the high side.
"Power supply here can be described as erratic because sometimes the lights may be off for four days in a row while the remaining three days are not certain.  Some other times, we may have the supply again for two or three days with interruptions in between; we can't plan with it," said Femi Adesanya, a resident of Ajuwon.
"Erratic power supply is one of the pains of a densely populated rural area. In Akute, we have about three hours of power supply between midnight and 4 am," said James Dureke, a landlord in Akute who added that "I have a borehole in my house for my residence from which I supply my neighbours water for free, there are two other bore hole operators who sell water in the area, but I don't sell because most people here are not as buoyant."
When asked how clean the water from his borehole is, Dureke said: "Though it is clean, I don't drink it, I buy water for drinking but the neighbours drink it".
Dureke, a business man who recently moved into the area, narrated how he spends about N250 on drinking water on a daily basis which translates to about N7,500 monthly.
Despite the challenges in these communities, the area is dotted with various private schools providing education for the growing student population in the neighbourhood.  However, many parents in the area often find it more expensive and time consuming conveying their wards to schools in Lagos. Doland International Secondary School is perhaps one of the largest schools in Akute. The school, perhaps due to its size could afford a borehole which supplies water for the staff and students.
Water is not only a challenge for residents of Ajuwon-Akute as the various schools operating in the communities also spend extra to provide water for their pupils. A student of Fortuneland School who simply identified herself as Morayo said: "We have borehole in my school which we use for our sanitation but most of the students buy sachet water during break to drink." A sachet of water containing 50cl of pure water costs N10 and an average student may consume two or more before the school closes by 4pm.
Some local schools are not so fortunate to have the luxury of a borehole; most local schools can only afford wells which supply water for sanitation purpose.
Dr. Alori Dare was a volunteer on a rural medical mission in some villages in Ogun State and he confirms that lack of clean water supply is the cause of most of the water borne disease cases in rural areas in Ogun State. "With my experience in Igbesa, I found that lack of pipe borne water is the root cause of a lot of ailments," he said, even as he enjoined local residents to ensure they take clean water to avoid water borne diseases.
Alori, who is the Medical Director of Hope Alive Clinic, Abesan Estate, Ipaja, Lagos, added: "The goal of my trip to rural areas and Igbesa particularly is to see to the medical needs of rural people who ordinarily could not afford medical services, my trip has also motivated some of the youths who now aspire to study hard to become medical doctors in future."
He however tasked the government on provision of clean water for rural people if the nation must stem the increase of waterborne disease.
"Waterborne diseases are caused by microorganisms like bacterial, protozoan, nematode etc. which are intestinal parasites commonly transmitted via contaminated fresh water," said Dr. Bayo, a Lagos-based medical doctor who expatiated further that "intake of contaminated water eventually results to diarrhea, cholera, typhoid and  hepatitis A".
By Dapo Emmanuel
The article was initiated courtesy of the Pro-poor WASH Stories Project implemented by the Water and Sanitation Media Network Nigeria, with the support of West Africa WASH Media Network, WaterAid, and Water Supply and Sanitation Collaborative Council.