Executive Secretary, Secretariat of the Convention on Biological Diversity (CBD), Cristiana Pașca Palmer, has said that that strengthened agricultural production and protecting biodiversity are key "intertwined challenges" at the heart of the 2030 Agenda.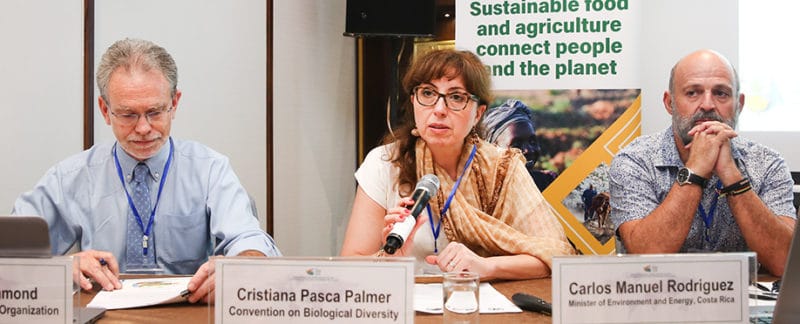 Palmer, who made the submission on Monday, June 25, 2018 at the Food and Agricultural Organisation (FAO) Side Event during the Global Environment Facility (GEF) 54th Council Meeting holding in Da Nang, Viet Nam, noted that agriculture remains the major driver of ongoing biodiversity loss.
She expressed however optimism about positive information sharing outcomes at the Multi-stakeholder Dialogue on Biodiversity Mainstreaming across Agricultural Sectors held in Rome from May 29 to 31, 2018, the first major activity of the FAO's Biodiversity Mainstreaming Platform.
Carlos Manuel Rodriguez, Minister of Environment and Energy, Costa Rica, described the challenges at governmental level between the different ministries of environment and agriculture, which often see each other as adversaries instead of as colleagues. He noted the importance of planning together and defining the investments jointly.
Palmer agreed with him about sharing the same experiences at national level and called for a paradigm shift away from the concept that "conservation takes away natural resources from the agricultural sector."
Mark Zimsky, Biodiversity Focal Area Coordinator, the GEF, presented on lessons learned from previous CBD projects, highlighting that there aren't yet many completed projects to draw conclusions from.
He indicated that mainstreamed programmes work best where there are: democratic transparent and stable governance systems; strong institutional capacity; availability and use of science-based biophysical and socio-economic spatial information systems; and phased in over an extended period. He added that these features are therefore reflected, where possible, in GEF 7 CBD projects.
Carlos Manuel Jimenez, Deputy Director-General of Environmental Financial Schemes, Ministry of Environment (SEMARNAT), Mexico, reflected on the impact of the CBD's 13th Conference of the Parties, held in Cancun in 2017, outlining: the four natural resource sectors of fisheries, forestry, agriculture and biodiversity signed an agreement to integrate strategies; and the creation of the world's first Mainstreaming Biodiversity Centre.
As integrated results, he highlighted: fulfilled the natural protected areas objective of 10 to 20% national territory under protection; biodiversity Finance Initiative (BIOFIN Mexico), analysis of public and institutional policies on biodiversity in the country; analysis of federal public spending for biodiversity; and costing of the National Biodiversity Strategy of Mexico (ENBioMex).
Kim Thuy Ngoc, Institute of Strategy on Natural Resources and Environment, Ministry of Natural Resources and Environment, Vietnam, outlined her country's efforts to address biodiversity loss, including through declaration of protected areas and a series of national conservation plans.
She expressed appreciation for FAO's recent Multistakeholder Dialogue in Rome, noting that it will be increasingly important to demonstrate the "economic value" of biodiversity for it to be taken seriously by mainstream ministries.
Chris Brown, Vice President, Corporate Social Responsibility, Olam International, highlighted the potential for millions of farmers to drive enhanced biodiverse outcomes if appropriate incentives enable them to see benefits in sustainable farming practices.
He also outlined actions which Olam International is undertaking to value its biodiverse resources, including: participating in Gabon's dialogue on forests, bringing in all relevant stakeholders to assess operational best practice for production in an area that is biodiversity-rich.
In response to questions from the audience at the close of the event, speakers agreed that the business case for improving biodiversity outcomes needed to be better articulated, including reflecting the impact of externalities which are currently socialised across the community or passed on to the next generation.
Minister Rodriguez concluded discussion by hypothesising that, in future, once full costs and benefits have been appropriately assessed, then there would not be a need for separate food and agriculture and environment ministers as there will be greater recognition that the two are inextricably linked.
Apart from raising awareness about the recently launched Biodiversity Mainstreaming Platform which aims to build bridges between sectors, the event was also aimed at identifying synergies, align goals and develop integrated cross-sectoral approaches in the agriculture, forestry and fisheries sectors.
Thomas Hammond, Director, Climate and Environment Division, FAO, who moderated the session, noted that the FAO would continue to aim to bridge the gap between the natural resources and agriculture sectors, having launched the Biodiversity Mainstreaming Platform.