The Rockefeller Foundation, the African Union Commission and the International Fund for Agriculture Development on Sunday in Rome, Italy launched the 'Leadership for Agriculture (L4Ag): The Network for African Ministers of Finance and Agriculture' on the sidelines of this year's International Fund for Agricultural Development (IFAD)'s Governing Council Meeting. L4Ag is an exclusive network of Africa's ministers of finance and of agriculture who are coming together to provide leadership and strategic thinking to transform and energise Africa's agricultural sector, to position it as a major contributor to economic growth across the continent.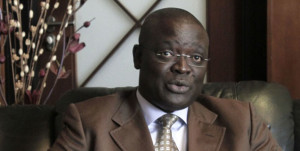 Formed in early 2014, L4Ag aims to promote strategic networking amongst member ministers and stakeholders to increase commitment to investing in agriculture; enable members to share best practices in innovative success cases in Africa for replication in their respective countries; promote a structured approach to agriculture productivity across in Africa; encourage stronger accountability measures for agricultural productivity; and to transform the smallholder farm into a productive unit and the farmer into a businessperson.
The network was first convened by the Rockefeller Foundation at 2014's Fin4Ag conference in Nairobi, together with the African Union Commission. It is open to membership by all of Africa's Finance and Agriculture ministers, and currently has a growing membership led by the founding countries of Kenya, Uganda, Rwanda, Sierra Leone and Equatorial Guinea. The network was joined by Ghana, Madagascar, Sudan and Chad at the launch, and together the ministers expressed confidence that it would catalyse the much needed development and investment in Africa's agriculture. There was also representation from Mozambique, Angola and Zimbabwe.
"Across Africa, the majority of people depend on agriculture for their livelihoods, yet millions of smallholder farmers and their families remain trapped in poverty. Corporates and financial institutions shy away from making greater investments in the sector due to perceived risks," said Mamadou Biteye, Managing Director of the Rockefeller Foundation Africa Regional Office. "We can change this, and the new Leadership for Agriculture Network will play an essential role by sharing knowledge among African ministers of agriculture and of finance, particularly about national reforms that can transform agriculture towards enhanced resilience and more inclusive economic growth for farmers, communities, and nations."
"It is only through collective action and investment that we can ensure that Africa's future includes a vibrant and productive rural economy that begins on the smallholder family farm, which makes up 80 per cent of all farms in sub-Saharan Africa. Investing in the smallholder farmer is investing in the resilience of food systems, the vigour of communities, and the strength of nations," said Kanayo F. Nwanze, IFAD President. "This ministerial network contributes to the outcomes of the African Union Malabo Declaration on Accelerated Africa Agriculture Growth and Transformation, which calls for partnerships and collaboration at multi-sectoral and multi-institutional level. This underscores the importance of Africa's finance and agricultural sectors sharing information and working together in order to achieve the goal of a food and nutrition secure, and poverty free Africa," said H.E. Rhoda Peace Tumusiime, Commissioner for Rural Economy and Agriculture of the African Union Commission.
Together, the Rockefeller Foundation and the AUC already have a number of initiatives in Africa that are aimed at improving the lives of poor and vulnerable people in agriculture and other sectors. In 2014, they signed a Memorandum of Understanding to promote cooperation between them in their efforts towards Africa's progress.