As the sensitisation on biotechnology as another option for enhancing agricultural productivity gains ground among Ghanaian farmers, scientists are faced with one problem – how to immediately meet the growing demand for seeds.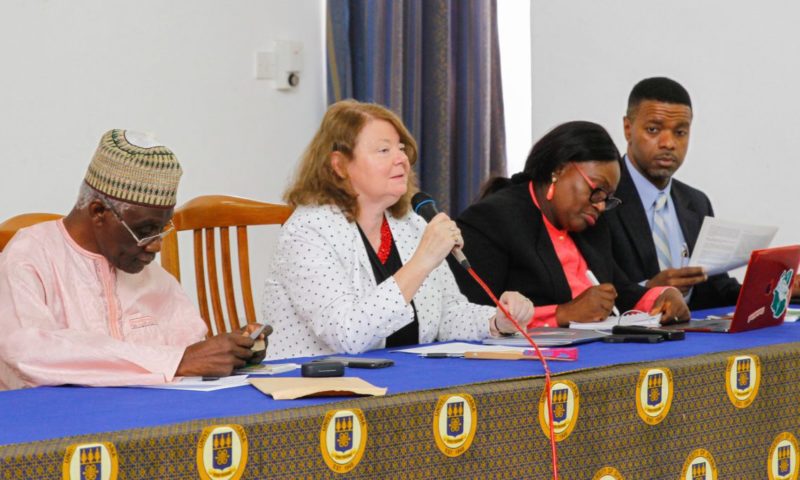 In various sensitisation workshops on biotechnology-related issues that have been held recently with mixed stakeholders in many parts of the country, farmers have asked where they could get the seeds to buy. The recent farmer enquiry was at the Women in Science forum organised by the United States (U.S.) Embassy and held on Thursday, November 2, 2017, at the Centre for African Wetlands, University of Ghana, Legon, Accra.
Biotechnology is defined as the scientific process through which scientists change the genes of plants and animals by introducing into them desirable genes from other related species. The produce or products of this process are known as genetically modified organisms (GMOs).
In agriculture, biotechnologically produced seeds are said to have the ability to resist drought, diseases and pests. They also yield produce that are much more nutritionally fortified. But the process and produce of biotechnology is dismissed by opponents to the technology, as unethical and unsafe for human consumption due to perceived health risks.
Scientists and researchers involved in agricultural biotechnology say its produce are some of the safest and best food crops. This is because GMO seed production involves rigorous long term scientific processes that ascertain the authenticity of seeds produced.
Currently, the process for GMO seeds in Ghana is still at the field trial stage in nitrogen-use efficient, water use efficient and salt tolerant (NEWEST) rice; cowpea; and sweet potatoes. Once the final stages are completed, the seeds will be released to farmers.
Over 80 scientists, researchers, government representatives and farmers participated in the Accra forum, which was facilitated by African women involved in agricultural research, policy making and communication. They discussed innovations in agriculture and biotechnology in Ghana and in Sub-Saharan Africa, and agreed that biotechnology was crucial to addressing problems plaguing the agricultural sector and ensuring food security.
The U.S. Embassy's Deputy Chief of Mission (DCM), Melinda Tabler-Stone, addressed the opening session. She expressed concern about the state of agriculture in Ghana, noting that though "agriculture remains the main driver for poverty reduction, particularly in Ghana's three northern regions … farmers remain challenged by low productivity, poor soils, and changing rain patterns."
Madam Tabler-Stone said over one million Ghanaians suffer food insecurity and the pressures were worsening as a result of rapid population growth. She observed that the situation, "calls for the implementation of effective and innovative solutions in Ghana's agricultural sector."
"Real transformation will require new approaches and efficiencies. The use of science and technology, including biotechnology, can be an invaluable tool," Madam Tabler-Stone said. Attesting to the potential of biotechnology to enhance agricultural productivity, she stated, "We know this because agricultural biotechnology has greatly improved crop efficiency and production in the United States, Brazil, and Argentina among other nations."
She further attested that "since the first biotechnology-derived crops were commercialized in the 1990s, they have been widely adopted in the U.S. Today, most of our corn, cotton, soybeans, canola, and sugar beets are produced using genetically engineered varieties. These innovations have saved farmers time, reduced insecticide use, protected crops from disease, and enabled the use of less toxic herbicides. New advances in science continue to expand options for farmers, while at the same time promoting the health of consumers."
Madam Tabler-Stone stressed that "these innovations have tremendous potential in Africa as well, and can play a role in helping to transform the agricultural sector from low productivity to a real driver of economic development and improved food security."
She highlighted the gains that Ghana could make by adopting agricultural biotechnology. "Ghana will have an opportunity to transform itself from an importer of food into an exporter to feed itself and the region through wise cultivation of its fertile soils. Millions can be lifted out of poverty, should we persevere in advancing this vision."
Madam Tabler-Stone commended President Akufo-Addo's vision of agriculture as a key component of his national economic strategy for job creation through the "Planting for Food and Jobs" programme.
The DCM also bemoaned the situation in which African women scientists were woefully under-represented in positions of leadership, even though they have a critical role to play in Africa's development.
She said the promotion of women and girls empowerment was a key foreign policy priority for the U.S. To this end, the areas of focus included, "advancing their education in the fields of science, technology, engineering and mathematics," she added.
Madam Tabler-Stone described the forum as a gathering that underscored the U.S. Embassy's "commitment to address gender imbalances and empower young women with the knowledge to be competitive for success against their male counterparts."
In her presentation, the Assistant Director of the National Biotechnology Development Agency (NBDA) in Nigeria, Dr. Rose Gidado, underscored the need for Africa and the West African sub-regions to adopt agricultural biotechnology. She said an increasing population that must be fed; high use of chemicals to enhance yields; decreasing water for agriculture; food security risk; prevalence of micronutrient deficiencies in developing countries were challenges requiring urgent attention.
Dr. Gidado, who is also the Country Coordinator for the Nigerian Chapter of the Open Forum on Agriculture Biotechnology (OFAB) in Africa, explained that these challenges have placed high demand on Africa's agriculture and food system. She stated, "Now more than ever, there is need to grow more food with less land and less water per person, need for more nutritious and safe food, need to reduce the amount of waste and losses, and need to move up the value chain production."
She urged Africa and the West African sub-regions to adopt agriculture biotechnology because "they are easy to cultivate, don't require harsh chemicals, are environmentally friendly, and use less energy. Modern biotechnology provides us with tools for trait improvements in crop germplasm for increased grain yields in ways compatible to human and environment welfare."
Dr. Gidado emphasised that it was important for African farmers and consumers of crop products, "to be given an opportunity to benefit from increased opportunities, productivity, and efficiency and perhaps costs of food by having GMO crops commercialised in African countries."
Expressing similar views, an Associate Professor of the College of Science and Technology of the Council for Scientific and Industrial Research (CSIR), Dr. Marian Quain, said, "Sub-Saharan Africa needs substantial investment in cutting edge technologies and human resource development."
She made a case for the continent to embrace agricultural biotechnology and said in such a situation, "farmers are using less pesticides or using less toxic ones, reducing harm to water supplies and workers' health, and allowing the return of beneficial insects to the fields … and the ultimate aim to alleviate poverty, hunger and malnutrition in the Sub-Saharan region."
Dr. Ouain literary walked participants through the science of biotechnology, saying that genetic engineering "allows for the transfer of a greater variety of genetic information in a more precise manner. These genes are very specific and allow the plant to precisely express the desired trait."
On the issue of some of the concerns raised in relation to gene flow and pest resistance, she explained that these have been addressed by new techniques of genetic engineering. Dr. Quain said measures have been put in place to ensure the safety of GMO products. "Scientists call for a cautious case-by-case assessment of each product or process prior to its release in order to address legitimate safety concerns."
She concluded on the note that biotechnology was certainly the way for Africa and the West African sub-regions to go. Dr. Ouain also admitted that "genetic engineering is an expensive process, requiring specialized expertise, and is not a panacea for all our agriculture problems," adding, "it should be utlised when all other options have failed."
By Ama Kudom-Agyemang, Accra