Diversification of Africa's electricity sources by embarking on renewable energy solutions – such as solar, wind, geothermal and hydro power – is being heralded as a solution to the continent's energy poverty.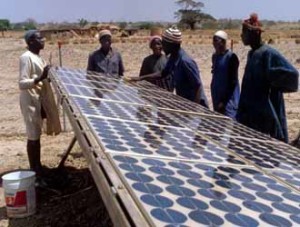 But although a number of countries are already reaping benefits from investment in renewables, there is concern that many of the countries are yet to exploit those resources.
African ministers and delegates at the Abu Dhabi International Renewable Energy Conference in Abu Dhabi, United Arab Emirates (UAE) recently noted that a mere handful of countries in the continent are tapping into renewable energy resource.
Some of the bottlenecks identified included lack of finance, lack of interest from investors and the desire by some to take on mega projects that could easily fail to attract private investors.
Davis Chirchir, Kenya's Cabinet Secretary for Energy, told IPS that for many sub-Saharan Africa countries, accessing financing for fossil fuel projects was much easier compared with renewable energy options. "It is a big problem even when the prices for renewable energy solutions like solar and wind are going down," said Chirchir, whose country is now seeing costs reducing as a result of investing in geothermal energy.
Kenya plans to generate up to three gigawatts (3GW) of power from geothermal energy alone from its Rift Valley area.
Chirchir said that despite the long-term benefits, many of the countries in the region lacked their own initial resources for investment in projects.
"While renewable projects are often cheaper, they tend to require up-front capital costs. So for many, we shall require more targeted financing if we are to kick off many from the ground," said Chirchir.
"In Kenya, our investment in geothermal energy displaced some 65 percent of fossil fuels, and brought down the cost to the customer by about 30 percent," he added.
Kandeh Yumkella, Special Representative of the U.N. Secretary-General for Sustainable Energy and CEO of the Sustainable Energy for All initiative, decried the fact that despite the declining costs of generating energy from renewable energy sources, Africa was consuming only one-quarter of global average energy per capita.
"How do we help the majority of people in Africa that rely on charcoal and cow dung for their primary needs? How do we do that? This is where the context of off-grid really comes in," he suggested.
According to Yumkella, Africa should focus on small and more decentralised renewable energy options that could quickly reach rural energy-poor citizens instead of waiting until funding is obtained for big renewable energy projects.
"Sometimes the project preparation costs before the investments come are about three to ten percent of project costs. For many African countries that is a lot of money. It takes a big time to get the big projects under way," he noted.
For Yumkella, African governments urgently need to put in place policies that would support renewable energy power generation using private investments to construct off-grid power stations, especially in areas where it is hard to reconnect to the main grids.
"We can have millions of energy entrepreneurs spreading the off-grid solutions while we wait for the big projects to take off," he explained. "People don't have to wait in darkness before the big projects come. We can have those solutions out today because the technologies are there. It is about markets and the spreading out of off-grid."
Furthermore, said Yumkella, off-grid solutions would support Africa's social development agenda at the community level and "that can be done now because off-grids can be in the hands of the poor communities to increase their productivity and help their social development. But we will need millions of entrepreneurs in Africa in order to make energy poverty history."
According to the International Renewable Energy Agency (IRENA), even with available renewable energy potential, Africa still has the lowest rate of rural electrification compared with other continents.
Globally, over the last two decades, rural electrification has increased from 61 to 70 percent but there are large disparities in rural access rates – in sub-Saharan Africa, for example, that rate is just 18 percent compared with over 70 percent in developing Asia.
IRENA says that Africa needs to double its rate of expansion of rural electrification and change the way it approaches rural electrification for it to achieve the universal electricity access for all target by 2030.
"And in this expansion, it is estimated that about 60 percent of additional generation will come from stand-alone and mini-grid solutions, with most of it being renewables because they can tap into locally available energy resources," said Rabia Ferroukhi, IRENA Deputy Director in charge of Knowledge, Technology and Financing.
Meanwhile, African energy ministers and delegates at the Abu Dhabi renewable energy conference called on IRENA and countries with greater knowledge in renewable energy to help them in supporting the Africa Clean Energy Corridor initiative.
This initiative encourages the deployment of hydro, geothermal, biomass, wind and solar options from Cairo to Cape Town to increase capacity, stabilise the grid, and reduce fossil fuel dependency.
Ethiopia, one of the countries already investing in renewable energy, especially in wind, geothermal and hydroelectric power, is one of the proponents of financing for the Clean Energy Corridor.
The country plans to generate 800 megawatts of wind power, 1 gigawatt of geothermal power and is constructing a 6,000 MW hydroelectric plant, which will be the largest such facility in Africa costing about $4.8 billion.
Ethiopia's Water, Irrigation and Energy Minister, Alemayehu Tegenu, told IPS that, if implemented, the Africa Clean Energy Corridor would help to advance renewable energy solutions to the corridor.
Adnan Amin, the Director-General of IRENA, told IPS that the Africa Clean Energy Corridor has gathered strong political support and engagement from within Africa and at the level of the United Nations.
"We have to make sure that we have regional programmes that can support countries to move in the clean direction and this is the concept behind our African Clean Energy Corridor," said Amin.
"We want to interconnect African markets, create a larger regulated market, because when you have big markets, you can have big projects that pass the technology forward."
With smart planning and prudent investment, Amin believes that all African countries can reduce their dependence on fossil fuels and leapfrog into a sustainable future.
By Wambi Michael (IPS)