In the bid to ensure that its products are affordable, bigwig property developer, the Lagos-based Messrs Propertymart Real Estate Investment Limited, has disclosed that blocks of luxury flats will be built at the highbrow "Grenadines Home Lokogoma" in Abuja.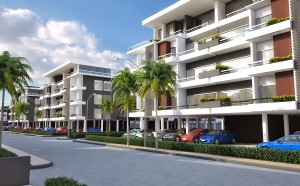 The estate will feature five three-storey blocks that will house 84 dwelling units of three-bedroom ensuite luxury flats. The blocks will provide generous space for parking.
Mr. Adeyemi Adeniyi, Propertymart's Branch Head in Abuja, said that the initiative was informed by the need to make housing more affordable to civil servants in the Federal Capital Territory (FCT), who are contributors to the National Housing Fund (NHF) and are entitled to accessing loans from the scheme.
A three-bedroom ensuite luxury flat is being sold for N17.5 million, but an Independence Day promo has pegged the asking price to N14.5 million, he said. The promo commences from October 1, 2012 and ends November 15, 2012, or while stock lasts.
A beneficiary will make a 10 percent down payment and spread the rest either within 18 months or 24 months, according to Adeniyi.
He stressed that the estate is targeted at NHF contributors, who can access a loan of about N15 million from the housing finance scheme. According to him, Propertymart is in talks with an Abuja-based primary mortgage institution (PMI) to facilitate the mortgage financing of the houses to lucky beneficiaries.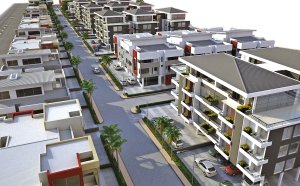 Apart from the blocks of flats, Propertymart is also building for sale homes such as the four-bedroom terrace house (with a boys' quarter), four-bedroom semi-detached duplex (also with a boys' quarter) and five-bedroom fully detached duplex. Some of the houses display penthouses with roof-top terraces for relaxation, loft-styled finish, personal car parking, glass curtain walling, Jacuzzi and unique colour finishing.
Located in Lokogoma District around the Games Village in Abuja, "Grenadines Home Lokogoma" sits on a five-hectare stretch of land, with about 2,000 square metres reserved for recreation facilities and open spaces.
The entire estate will be equipped with facilities such as swimming pool, gym and lawn tennis court. The estate has close proximity with the popular Games Village and other adjourning estates. It is about 15 minutes' drive to the Nnamdi Azikiwe International Airport and also 15 minutes' drive from the Central Business District of Abuja. Located in a residential area, it is about 10 minutes from Shoprite, touted as Africa's largest shopping mall.
Initiated through a partnership agreement between Propertymart and Omega Homes Limited, the "Grenadines Home Lokogoma" is targeting the middle and high income class.
The Lagos-based architectural firm of Messrs Play In Architecture Limited designed the estate and the dwelling units, while Messrs Billing Cost & Associates are quantity surveyors to the project.
On what informed the choice of Abuja for the estate, Adeniyi said: "We want to repeat the same feat we have recorded in the South-West over the on-going construction of 'Grenadines Arepo,' where the civil engineering infrastructure is being handled by the PW Group.
"Apart from desiring quality homes to be delivered at an affordable rate and on time, we want to stand out in the real estate market and raise the standard being set by developers on construction of housing projects in Abuja. The aim is also to advance the economy through real estate."
According to him, Propertymart nurses an ambition to build more estates in Abuja upon the completion of Grenadines Homes Lokogoma. He added that other cities being targeted by Propertymart include some unexplored areas in Ogun State, Port Harcourt in Rivers State and Karu in Nassarawa State.
Besides Grenadines Home Lokogoma, Propertymart has also developed estates such as Grenadines Life Camp, Abuja; Grenadines Magodo GRA; Grenadines Home Arepo; and Mainland Gardens.