Speaking at the UN Summer Academy in Bonn, Germany, the Executive Secretary of the UN Framework Convention on Climate Change (UNFCCC), Patricia Espinosa, believes that impacts of climate change can help families and communities protect their livelihoods, even as climate action also offers a path towards good jobs in the green economy. Excerpts: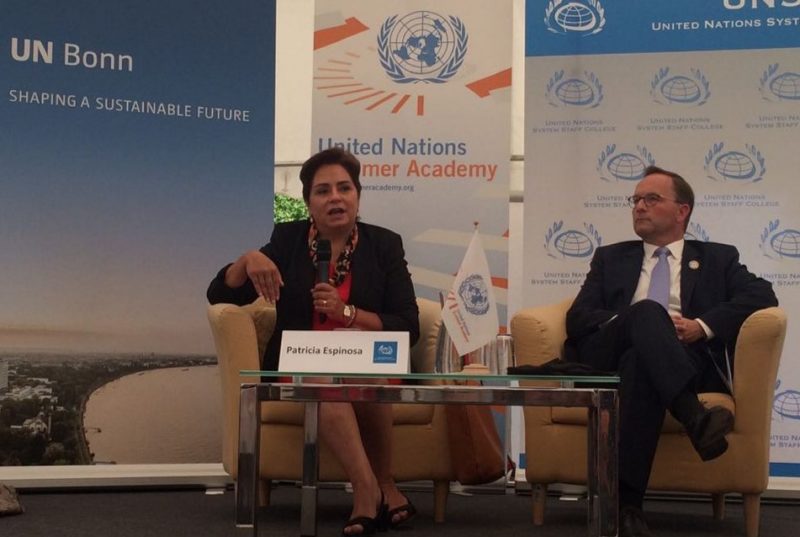 We live in a moment of multiple sources of concern for humanity.
Peace and security seem out of reach due to instability around the world.
We see worrying trends like population growth, food and water scarcity and chaotic urbanisation. We see threats from climate change impacts in both the developed and developing worlds.
And there are mounting development concerns and challenges as we look to what the future holds.
It is unacceptable that today – in 2017 – we still face this reality.
In a world that is increasingly smaller and more connected, where science, technology and innovation are part of our daily lives, multilateralism and human resolve are being tested.
The very good news is that we have the tools, the framework and the institutions to move forward.
We have unprecedented agreement to move towards resilient and sustainable development powered by low-emission energy. We have unprecedented consensus on the path forward. And we have unprecedented political will to move forward together.
We have a framework for action – in the United Nations and multilateral institutions, and in each country's national contribution to the Paris Agreement.
We have modern negotiated instruments – in the 2030 Agenda for Sustainable Development and the Paris Agreement, among others.
We have a path forward – towards sustainable development that is good for the planet and for the wellbeing of every woman, man and child. And towards a world where average global temperature rise is held to as close to 1.5 degrees as possible.
This path implies a deep transformation of societies, of how we grow and develop.
Climate change action is central to achieving this deep transformation and for getting on this path right now.
Climate change is Goal 13 of the Sustainable Development Goals, but as we look across all of the sustainable development goals, it is quite evident that climate action contributes to the success of the 17 goals altogether.
Look at Goal Number One – the goal to end poverty – and also Goal Eight related to decent work and economic opportunity.
Adapting to the impacts of climate change can help families and communities protect their livelihoods. Climate action also offers a path towards good jobs in the green economy, a fact that is underscored by the millions of new clean energy jobs worldwide.
Speaking of renewable energy, it is the critical path to affordable and clean energy for all – Goal Seven of the SDGs.
We see this here in Germany, where windmills dot the landscape and solar power is a way of life. And we see it across the developing world from Bangladesh to sub-Saharan Africa and the Pacific Islands.
In many of these places, climate action is improving the health and wellbeing of people – Goal Three of the SDGs.
Solar power allows women to cook on stoves that avoid indoor air pollution from burning wood. It gives children a light to study by that does not come with the health impacts of burning kerosene.
Electric vehicles and clean energy can reduce the air pollution in major cities and reduce emissions, which in turn slows the spread of vector-borne diseases. This makes cities and communities more sustainable and safer. That is Goal 11 of the SDGs.
And of course, as we witness the dying of the Great Barrier Reef, the destruction of our rainforests and the warming of the arctic, climate action is a clear path towards protecting life below water and life on land, Goals 14 and 15.
With this understanding of the interconnected nature of all the Sustainable Development Goals and the climate change goals laid out in Paris, the question that arises is – how do we get from agreement to deep and complete transformation?
The simple answer is that it requires action by all.
Countries must develop institutional policies, planning and programmes that fully incorporate the aims of the Paris Agreement, the 2030 Agenda for Sustainable Development, the Sendai Framework for Disaster Risk Reduction and other agreements.
Some160 nations have now ratified the Paris Agreement, so we should start to see more of these policies as countries look to fulfill their contribution to the agreement.
But national governments alone cannot deliver this agenda.
Climate change and sustainable development policies must also be enacted at the regional and city levels. The good news is that this is happening.
California in the US has bold emission reduction targets, a carbon market and a host of climate-smart policies due to leadership by the current and former governors.
The Mayor of Paris, Anne Hidalgo, is also the Chair of C40, a group of cities that are acting on climate change in line with the Paris Agreement.
Here in Bonn we have electric busses and incentives for renewable energy. Delhi has a robust and multifaceted climate action plan. Cities are acting on climate and sustainability because of the benefits to their citizens. I could list hundreds – even thousands – of examples.
Businesses and investors – key groups for transforming our on-the-ground reality – also support climate and sustainability action. Not only because it is a good thing, but because it is a smart thing.
For example, Ikea has committed one billion euros to renewable energy, putting solar panels on stores lit by energy-smart LED lights. They have also committed to grow more trees than they use.
Apple recently raised one billion dollars through the largest corporate green bond to help meet their 100 percent renewable energy goal.
Google and Microsoft see great value – in terms of cost and corporate responsibility – from renewable energy and greening their operations.
From electric vehicles to energy efficient buildings to sustainably sourced materials, the private sector is openly and explicitly aligning with the Paris Agreement and SDGs. This is historic: for the first time, non-State actors voluntarily adjust and follow a multilateral agreement. It is truly inspiring to see.
This movement, this momentum, is something that each person here can accelerate and amplify. Individuals have an incredibly important role to play in the deep transformation we need.
People are driving this transition away from the unsustainable path. For some, it is buying an electric car because the fuel and maintenance costs are so low. For others, it is recognising the opportunity for entrepreneurship that solar power offers in Asia or Africa or Latin America.
People now understand that our lives and lifestyles cannot come at the expense of other people, the planet or future generations.
This is where you can make a difference – by spreading the message on how every part connects, by raising awareness and by enabling local climate and sustainability action.
In spite of the overwhelming evidence – both social and scientific – of the need to act, we will no doubt face challenges and skepticism. Deep transformation is not easy.
Here at the UN Summer Academy, you have been given tools to build a better future based on the blueprints from the 2030 Agenda for Sustainable Development and the Paris Agreement.
I am sure you will be strong allies of this agenda, advocating that every local climate action contributes to the growing global momentum towards a sustainable, resilient and low-emission future.
Every step towards sustainability is a step towards a stable, secure future where peace and prosperity flourish and opportunity is open to all.