Smoke from Canadian wildfires on Thursday, June 8, 2023, drifted south, blanketing cities in thick, yellow haze along the US East coast that has forced schools to close, canceled outdoor activities and slowed airline traffic. Millions of Americans have been urged to stay indoors.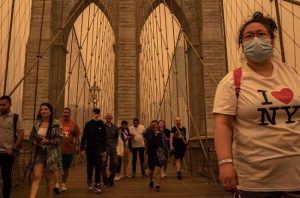 In New York City, where the air quality was considered the worst in the world, public school students will take remote classes on Friday to avoid dangerous conditions, NBC News reported.
The smoke has prompted the cancellation of multiple baseball games, concerts, and broadway shows, as well as the closure of public spaces like zoos in New York and Washington D.C.
A Pride Month event planned by President Joe Biden at the White House was also put on hold as smoke drifted over the nation's capital and more than 400 flights have been delayed nationwide.
A reprieve might be coming soon, however; The New York Times reported that the smoke should start abating on Thursday as it drifts west.
Bill McKibben, writer and environmental activist, lives in Vermont and argued that the Canadian fires have given millions of North Americans a sense of what other people already know.
"Today is our chance to understand what it really feels like every day on a fossil-fueled planet, for the billions of people unlucky enough to really bear the brunt," McKibben wrote on Substack. "My eyes are stinging a bit from the smoke, but I've never seen more clearly."
May Boeve, Chief Executive of 350.org, said: "This is the climate crisis, here and now, causing dangerous air pollution and threatening the health of millions of people. At the same time, the coal, oil and gas corporations who caused this crisis are making record profits. All the while ordinary people everywhere are struggling with the surging cost of living. That's not right. To protect our planet's future – and our own health – we need our leaders to take practical action. They must make oil corporations pay up by taxing their excess profits and use the money to fund a swift transition to just, clean, renewable energy for everyone."
Andreas Sieber: Associate Director of Policy at 350.org, said: "As the inferno of wildfires engulfs North America, diplomats hailing from all corners of the globe gather at the United Nations climate negotiations in Bonn, Germany, in anticipation of the forthcoming climate conference to be held in the United Arab Emirates later this year. COP28 and its mission to course correct following the much anticipated Global Stocktake is absolutely decisive to limit global heating to 1.5C: COP28 must take decisive action and commit to the phase out of fossil fuels and the powering up of renewable energy to the tune of 1.5 Terawatt yearly instalment from 2030."