An appeal has gone to mankind to adopt an attitudinal change from indiscriminately disposing plastic wastes and other forms of litter in the ocean to protect coastal and marine ecosystem and help boost his chances of survival in the long run.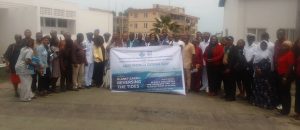 Antonella Vassallo, Managing Director of the International Ocean Institute (IOI), made the plea in Lagos on Thursday, June 8, during a public lecture organised by the Nigerian Institute for Oceanography and Marine Research (NIOMR) in conjunction with International Ocean Institute – Nigeria (IOI – Nigeria) Centre to commemorate the 2023 World Ocean Day with the theme: "Planet Ocean: Tides are Changing".
The World Ocean Day is marked annually on June 8.
Vassallo, who admitted that the tides are changing, also admonished people to consider whether these changes will be beneficial or detrimental to their lives and livelihoods. She said: "One way we can change is by becoming more ocean literate. An ocean literate person understands their individual and collective impact on the ocean and its impact on our lives and wellbeing. But most importantly an ocean literate person also understands the power of personal and group action to bring about positive change and improvement in favour of the ocean and our future on Planet Ocean."
Director, IOI – Nigeria Centre, Mr Akanbi Williams, in his open remarks, highlighted the need to address challenges such as overfishing, marine pollution, habitat destruction, and climate change impacts.
He said the yearly celebration of the Ocean Day as recognised by the United Nations encourages people to adopt responsible practices, such as plastic waste reduction, supporting sustainable fisheries, and protecting marine ecosystems. It encourages international cooperation and collaboration by providing platforms for sharing knowledge, best practices, and innovative solutions for sustainable management of the ocean.
"People are to take personal actions by participating in beach cleanups, reducing plastic consumption, supporting sustainable seafood choices, and spreading awareness through social media and community initiatives and by participating in events commemorating this day shows that everyone can contribute to the well-being of our oceans. It is time we put the ocean first in our lives," he charged.
Speaking further, the Williams said: "IOI – Nigeria Centre in conjunction with the NIOMR commemorates this year's event with activities highlighting the importance of reducing plastic pollution entering the environment and ultimately our ocean. Plastic wastes have become serious issues in many countries including Nigeria. The common solutions proffered globally have been to Reduce, Re-Use, Recycle and Refuse (the 4Rs), and activities for this year's event are to highlight the problems and to showcase the success stories of recycling and upcycling (re-use) of plastic wastes in Nigeria."
In his speech, guest speaker, Mr. Taiwo Adewole, while speaking on the topic "Plastic Pollution: The Problems and the Solution Stories in Nigeria", disclosed that about 14,000 tons of plastic wastes are being generated every day in Lagos alone.
His words: "The amount of plastic waste flowing into the ocean and killing marine life could triple in the next 20 years, unless companies and governments can drastically reduce plastic production.
"Single-use plastic consumption has increased during the coronavirus pandemic, according to the International Solid Waste Association, face masks and latex gloves are washing up daily on remote beaches. Landfills worldwide are piled high with record amounts of takeaway food containers and online delivery packaging."
Mr. Adewole however clamoured proper waste management especially in the area of making wealth from plastic wastes by sighting numerous materials made from plastic wastes such as pellets, pet bottles, polyester stable fibre, bottle to bottle production, plastic bricks and plastic to fuel and so on.
Executive Director of NIOMR, Prof. Abiodun Sule, said many animals including man are under threat of survival due to the continuous exploitation of the ocean. He added that it was, therefore, time for people to put the ocean first through concerted efforts and actions.
Sule, represented by the Director, Fisheries Resources Department, NIOMR, Dr Patience Obatola, said: "A day like this highlights the need to create awareness on what is happening to our ocean; the impacts on humans and other organisms; what we can do to live in harmony with ocean and nature.
"'To man, the life and livelihoods matters, particularly as about a quarter of the human population lives on or near the coast; unsustainable use of the ocean and its resources portend a glooming future for us and next generations."
Also speaking, the National President, Fisheries Society of Nigeria, Dr Ebinimi Ansa, said there was need for individuals to educate themselves and communities about the importance of the oceans.
Ansa, represented by Olalekan Oguntade, an official in the society, underlined the need to instil a sense of stewardship and responsibility in the generations to come.
"By raising awareness and inspiring collective action, we can create a future where our oceans thrive, providing us with sustenance, prosperity, and a vibrant natural heritage," he said.
Stakeholders in the maritime industry were part of the session including Head of Fisheries Resources, Dr. Patience Obatola; Representatives of the Nigerian Navy, Hydrographic Office, Lieutenant Commander A.G. Ajegena; Vice President, Fisheries Society of Nigeria, Dr. Lekan Oguntade; Mrs. Peju Ibekwe of Sterling One Foundation; and numerous others who joined remotely from countries around the world.
At the end of the event, there was demonstration and exhibition of waste-to-wealth products from organisations such as Tidy Nigeria, Craft The Trash, Fare International Foundation, and Ecoviridis Environmental Technology, among others.
By Ajibola Adedoye