Activists in eight countries are calling on governments and institutions to deliver on their pledge to fully shift international public finance from fossil fuels to clean energy by the end of this year, made at last year's global climate conference in Glasgow.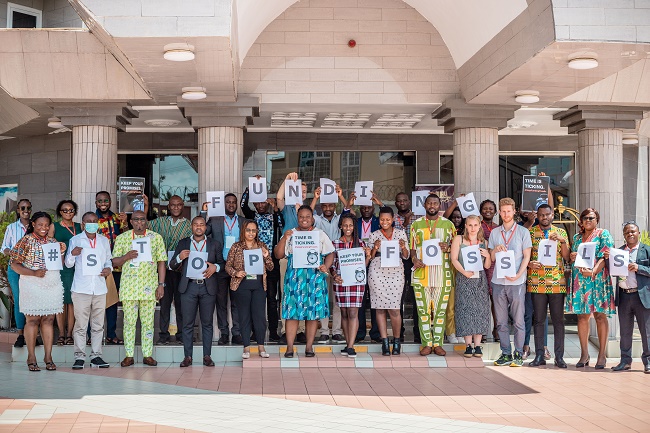 One month before COP27 kicks off in Egypt, analysis shows that while some countries are making progress, others are not yet on track – putting an opportunity to shift $28 billion a year in public finance out of fossil fuels and into clean energy at risk.
Last year's Glasgow commitment requires the 39 signatories to end new direct overseas support for fossil fuels by the end of 2022 and fully prioritise international public finance for a clean and just energy transition. The commitment covers international public finance flows, including export finance and (multilateral) development finance.
With one month until COP27 and two months to the end of 2022 deadline, a small but growing number of signatories, most recently France and Finland, have published new or updated fossil fuel exclusion policies. Others, including Canada, the United States, Italy, and Germany are lagging behind.
All signatories need to take further action to deliver on the clean energy finance part of their commitment. Activists gathered in Ghana, the United States, the United Kingdom, Canada, Japan, Italy, the Netherlands, and Belgium, calling on signatories to get on track and uphold their commitments.
The events on Friday, October 7, 2022, include a protest outside the White House in Washington, actions outside government offices in Tokyo, Ottawa, Rome and Amsterdam, a protest in Ghana with African civil society calling for support for clean energy, and activists handing in letters to the London embassies of Germany and Spain, two key laggards.
Research from Oil Change International and International Institute for Sustainable Development shows that if countries follow through, this will directly shift $28 billion a year out of fossil fuels and into clean energy, more than doubling their international clean energy finance from $18 billion a year to $46 billion.
Soon after COP26, Russia's unprovoked invasion of Ukraine created an unprecedented energy upheaval, and in recent months there have been signals of countries potentially backsliding on commitments by investing in gas and liquefied natural gas (LNG) to replace Russian supply.
The recent policy update in France, which fully excluded public finance for LNG, shows that some signatories understand that this moment requires countries to keep their promise to stop funding fossils and double-down on a clean and just energy transition. Over the next few weeks in the lead up to COP27, other signatories, including the United States, Canada, Germany, Italy, and the Netherlands must follow suit – and civil society will be tracking their progress.
Adam McGibbon, Public Finance Strategist at Oil Change International, said: "It's time for leaders to stop talking and start leading. Almost a year ago, these countries pledged to stop fuelling the fire with public money. If Olaf Scholz, Joe Biden and Justin Trudeau turn up to COP27 without a plan to keep their promise to stop funding fossil fuels, then why are they turning up at all?"
Tasneem Essop, Executive Director at CAN International, said: "Hard earned taxpayers' money cannot be used by governments anymore to prop up fossil fuel projects domestically or abroad. This criminal waste of public resources is driving the climate emergency and exacerbating conflicts, the cost of living, poverty, sickness and climate disasters. Public finance- the people's money- must be used to help people transition to clean and sustainable energy systems and towards a climate safe future for all."
May Boeve, Executive Director at 350.org, said: "It's time for governments to show what real climate leadership looks like and end international public finance for fossil fuels. No ifs or buts, ducking and diving, wheeling and dealing. If we want to keep global heating below 1.5 degrees, a managed decline of fossil fuel production is the only way, and the only language these profit-mongering fossil fuel companies understand is money. It's time to turn off the money pipeline to dirty fossil fuels and invest in all of our futures."
Niels Hazekamp, Senior Policy Advisor at Both ENDS (Netherlands), said: "With just one month to go to COP27, the Netherlands and many other countries that committed to stop billions of fossil fuel export support before the end of 2022 have yet to fulfill their promise. This is a critical moment for government leaders to show they take action to mitigate climate change. The time to deliver is NOW."
Kenneth Nana Amoateng, Executive Director at AbibiNsroma Foundation, Ghana, said: "Ending international public finance for fossil fuels and shifting investments into clean energy is the way to go. Redirecting huge investments of public finance to renewable energy technologies will support communities to have clean, affordable and modern energy which will ensure energy justice, protect human rights and support sustainable livelihoods."
Kate DeAngelis, International Finance Programme Director, Friends of the Earth United States, said: "The United States has failed to show climate leadership by refusing to release its guidance on ending overseas fossil fuel finance. As the largest historical contributor to climate change, the United States must step up and make clear to the world that its support for international fossil fuel projects is a relic of the past."
Hemantha Withanage, chair of Friends of the Earth International, Sri Lanka, said: "We cannot lose momentum for the clean energy transition. It's truly time to stop public international money funding dirty fossil fuels, which stoke the climate crisis and cause such harm to communities in the global South. Not even a year after COP26, we see rich country governments doing their best to wriggle out of the bold declarations they made in Glasgow. In my country Sri Lanka, and everywhere facing this energy crisis, we need public finance for people-centred, renewable energy."
Isabelle Geuskens, Just Energy Transition Officer, Milieudefensie (Friends of the Earth Netherlands), said: "We cannot afford to be kept waiting, or end up with a watered-down Glasgow commitment. Science is clear, there is no more room for new fossil projects, as existing fossil projects are already putting our future at risk. The past months, we have seen industry and policymakers coming up with desperate attempts to undermine the crucial policy commitments made in Glasgow; claiming the war in Ukraine justifies further fossil development, as well as that poor countries should be able to continue with fossil for their ¨development.
"Under the guise of crisis and ¨care¨, the fossil lobby tries to continue with its dirty projects that are leading to severe human rights abuses, environmental pollution, life threatening climate change, and economic collapse. It locks countries in the south into a fossil future with growing debts, meanwhile undermining their just transition to renewables."