Protests in four different countries against the isoplus-GROUP's involvement in the East African Crude Oil Pipeline (EACOP) took place on Friday, June 2, 2023. In Austria, Germany, Italy, and Uganda, climate activists gathered, calling on isoplus' management to pull out of the construction of the EACOP.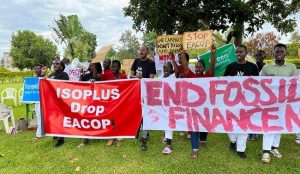 The isoplus-GROUP is a European leader in the field of thermal preinsulated systems. While it is internationally known mainly for its district heating technology, it is now drawing attention for its involvement in a mid-sized carbon bomb. Fridays For Future has uncovered that the Austrian-based company isoplus is part of the Joint Venture ISOAF that produces the insulation for the longest heated oil pipeline in the world.
EACOP – the fossil giant 
The East African Crude Oil Pipeline (EACOP) is to become the world's longest heated oil pipeline with a length of more than 1,400 km. This corresponds to the linear distance between Vienna and Barcelona. The pipeline will transport oil from Lake Albert in Uganda through Tanzania to the Indian Ocean. From there it will be exported all over the world.
The pipeline runs through more than 400 villages and will cut a 30-metre-wide swath through one of the world's most biodiverse regions. EACOP is estimated to emit about 34 million tonnes of CO2 each year, equal to seven times Uganda's annual emissions.
However, it can be expected that EACOP will pave the way for further oil production in central Africa – for example in the Democratic Republic of Congo or Rwanda. Both the Intergovernmental Panel on Climate Change (IPCC) and the International Energy Agency (IEA) clearly state that the construction of new fossil fuel infrastructure must be prevented at all costs in order to limit global heating to +1.5°C.
The project is regarded as not only a risk for the planet, but it also bears a reputational risk for the companies involved: 25 banks and 23 insurance companies have reportedly withdrawn their support, including Standard Chartered, formerly one of the key financial advisors of the project.
100,000 people displaced by EACOP construction
EACOP will force around 100,000 people in Uganda and Tanzania to leave their homes – they will be displaced for the oil project. Theoretically, they either receive financial compensation or are resettled – but as reports show, compensation is said to be sparse or inadequate.
Climate justice activist Nicholas Omonuk from Uganda, who joined the action in Austria on Friday, describes the situation in his home country: "Thousands of people have already been displaced. The initial settlers now have no farmlands to grow food crops which means that their livelihoods are lost forcing them into poverty. This is climate injustice paired with human rights injustice. I call upon everyone all over the world to join the fight against EACOP. We are tired of suffering: People over pipelines!"
isoplus needs to drop EACOP to end fossil destruction
"While we prefer to point fingers at countries like China when it comes to reducing emissions, Austrian companies like isoplus are fuelling climate killer projects like EACOP with their products and continue to make profits from fossil destruction," says Johanna Frühwald from Fridays For Future Austria.
She adds: "You can't present yourself as a pioneer for a sustainable energy transition and build the world's largest heated oil pipeline at the same time. It just doesn't add up. We demand isoplus to pull out of the EACOP project."
Protests against isoplus also in Germany, Italy and Uganda
While Fridays for Future Austria protested in front of the Austrian isoplus office in Hohenberg on Friday, a German activist group went in front of isoplus' headquarters in Rosenheim. Moreover, Fridays for Future Italy joined the call to action and protested in front of the Joint Venture ISOAF located in Padua. Despite the repression that climate activists in Uganda face when making critical statements about the planned oil project, there was also an action under the slogan "Stop EACOP" in Kampala (Uganda) on Friday.
Isaac Ssentumbwe from the climate justice movement Rise Up Uganda demands the Austrian company to take responsibility and says: "The continued investment in the fossil fuels by the rich countries has proved without a doubt that they only care about the profits and not the people and our planet. It is time to finally end fossil destruction: isoplus needs to drop EACOP."