Some residents of Aba have called on the Abia State Government to provide more refuse buckets in the city to curtail indiscriminate refuse dumping to reduce flooding in the city after rainfall.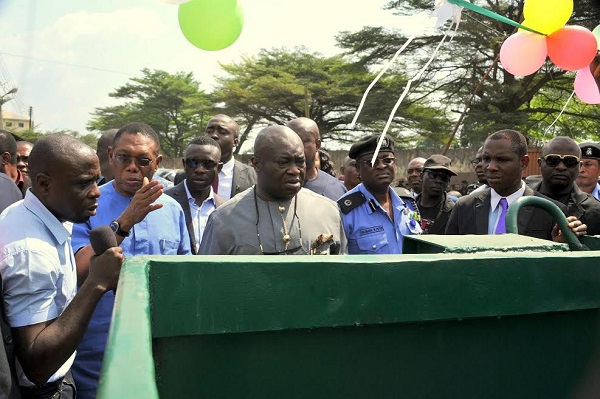 The residents, in interviews with News Agency of Nigeria (NAN) on Tuesday, August 21, 2018, decried the poor attitude of the people to the environment and call for proper management of waste to reduce flooding in the city.
Teddy Johnson, a driver, noted that the Okezie Ikpeazu Administration had worked harder than its predecessors to build roads with drain in Aba, yet the city still faced flooding problems.
He said the reason was that some residents and traders emptied their waste in the drains and blocked them thus flooding occurred after the rains.
He suggested that the government should check clogged drains through proper waste management.
Johnson said that Aba residents passed through great difficulties to reach Abia State Environmental Protection Agency (ASEPA) refuse buckets as they were few.
He said that the long distances discouraged children who were sent most times to throw away refuse from reaching the spots, hence they poured waste into gutters and blocked them.
He urged government to improve waste management by sending ASEPA to collect refuse from house to house to check indiscriminate refuse dumping and flooding.
Chief Richard Kalu said the government had been trying to put the city in order but needed to give its contract works to professionals in all areas.
He said poor quality construction work in some areas was responsible for clogged drains which induced flooding.
He further called on the government to use a special task force to check indiscriminate refuse dumping if it must contain street flooding in Aba.
Tony Onyebuchi also said that residents were contributing to clogged drains in Aba resulting in flooding of streets.
He called on the government to provide waste buckets for all residents and monitor and enforce their use through a special task force to ensure compliance.
"One single measure will not stop flooding in Aba because it is caused by many factors and it is by attending to these different factors that street flooding could be properly controlled in Aba.
"And government and the people can solve this problem if they join hands," he said.
By Ijendu Iheaka