AATF Regional Representative for West Africa, Dr Jean Baptiste, has commended the spirit of African farmers for their commitment, resilience, and dedication for producing food for the populace.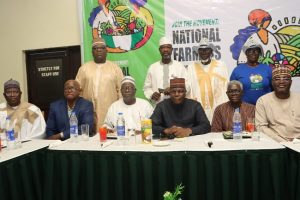 Dr Baptiste gave the commendation in a speech delivered at the celebration of the 2023 National Farmers Day in Abuja on May 28, 2023.
"On this National Farmers Day celebration, I salute the courage of our farmers. Let us continue to cherish, support, and celebrate our farmers not only today but every day. Together, we can build a future where agriculture flourishes, and our farmers stand tall, nurturing the soil and feeding the world," he said.
He described the National Farmers Day as a source of pride, and an opportunity to appreciate and renew commitments to the well-being of farmers.
"We gather here to celebrate the incredible contributions and hard work of our farmers on this auspicious occasion of National Farmers Day. It is a day to honour the backbone of our society, the men and women who toil tirelessly to feed our nation and sustain our agricultural heritage.
"Farmers' unwavering dedication and relentless efforts play an instrumental role in ensuring food security, not just for our nation but for the world at large. Through their commitment and resilience, they provide sustenance and nourishment to millions of people, and for that, we are truly indebted to them."
He also spoke about the challenges faced by farmers.
His words: "Let us take a moment to reflect on the challenges faced by our farmers. The agricultural sector has always been subject to numerous uncertainties and adversities, be it unpredictable weather patterns, pests, diseases, or market fluctuations. However, despite these hurdles, our farmers have consistently risen to the occasion, adapting to changing circumstances and embracing innovative practices to ensure a bountiful harvest.
"Our farmers have not only excelled in traditional farming methods but have also embraced modern technology and sustainable practices. By integrating advancements such as biotechnology in agriculture, they are not only increasing productivity but also minimizing environmental impact. Their commitment to sustainable agriculture sets an exemplary standard for the entire world."
He also used the opportunity to applaud the critical role that farmers play in preserving the cultural heritage.
"Our farming traditions, passed down through generations, connect us to our roots and remind us of the profound relationship we share with the land.
"Your deep respect for the land, your stewardship, and your understanding of the delicate balance between human progress and nature's rhythms are invaluable," he added.
"Let us also acknowledge the need for continued support and investment in the agricultural sector. Governments, organisations, and society as a whole must come together to ensure that our farmers have access to resources, knowledge, and infrastructure necessary for their prosperity. We must strive to create an enabling environment that fosters innovation, empowers small-scale farmers, and promotes equitable agricultural practices," Dr Baptiste said.