The death toll in two major landslides that struck the Philippines recently has climbed to 95, authorities said on Monday, September 24, 2018.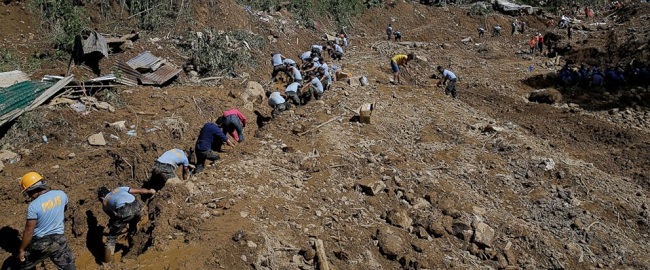 Officials said as of Sunday a total of 49 bodies have been pulled out of the rubble in the mining town of Itogon, Benguet province in the northern Philippines.
Meanwhile a total of 46 bodies have so far been retrieved from the landslide that also hit a community at the foot of a quarrying site in Naga City in the central Philippine Cebu province.
In Itogon, disaster officials said at least 19 others are still missing after mud boulders crashed on a bunkhouse.
The bunkhouse was where small-scale miners and their families sought refuge as super typhoon Mangkhut barreled the Philippine main Luzon Island on Sept. 15.
Rescuers are continuing their retrieval efforts to locate 40 others still missing in the Naga City landslide that buried some 30 houses around 6 a.m. on Thursday.
Disaster officials counted nearly 200 deaths in typhoon Mangkhut and the twin landslides that struck the Philippines recently.
Almost 1.6 million farmers and fishermen were affected by Mangkhut, the strongest typhoon to hit not only the Philippines but the region this year.
Data showed that 80 to 90 per cent rice and corn crops were destroyed in the affected area, jeopardising food supplies and devastating poor farmers who were counting on their upcoming harvest.
Other livelihoods such as mining are also severely impacted in the typhoon's aftermath.
Philippines is one of the most disaster-prone countries in the world.
An average of 20 tropical cyclones enter the Philippines each year of which around six to seven cause significant damage.
In 2013, super typhoon Haiyan devastated the central Philippines, killing over 6,000 people.
In 2009, typhoon Ketsana also caused massive flooding in Metro Manila, killing over 700.