More than 74,000 people have been forced to flee their homes after two weeks of eruption from Philippines most active volcano, scientists said on Thursday, January 25, 2018.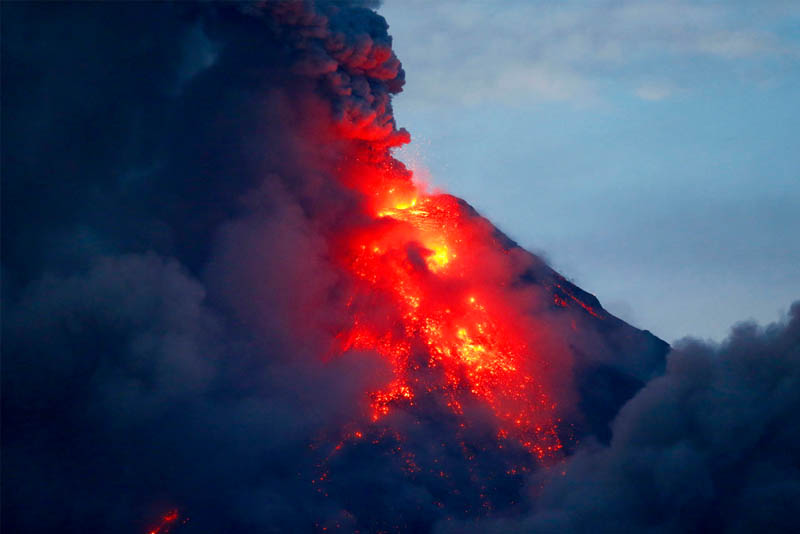 Mayon Volcano in Albay province, 330 kilometres south of Manila, has been belching lava fountains and huge ash plumes since Sunday, one week after it started erupting on January13.
Heavy ash fall has blanketed towns at the foot of the mountain, prompting local officials to suspend classes in the entire province. Domestic flights to the area have also been cancelled.
So far, no deaths have been reported, but officials were worried of health impacts of the ash fall and cramped conditions in evacuation centres.
The Philippine Institute of Volcanology and Seismology (Phivolcs) warned the eruption could go on for months as pressure was found to be still building up in Mayon.
Electronic and other measures "indicate sustained swelling or inflation of the edifice (of Mayon), consistent with pressurisation by magmatic intrusion," the institute said in an update.
Authorities have evacuated residents living within a 9-kilometre-radius expanded danger zone amid warnings of a more violent eruption and mud flows amid rains brought about by low pressure.
The 2,463-metre volcano has erupted about 50 times since 1616.
The last deadly eruption was in May 2013 when five hikers were killed and seven people injured in that incident.
Mayon's most violent eruption was in 1814, when more than 1,200 people were killed and a town was buried in volcanic mud. An eruption in 1993 killed 79 people.