Some 54,000 students from 2,750 secondary schools across the Nigeria are competing for honours in the 19th edition of the NNPC/Shell Cup now holding at centres in 36 states of the Federation including Abuja, in the biggest youth football championship in Nigeria.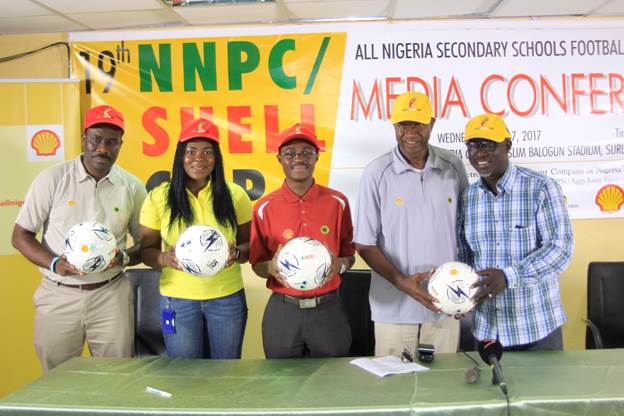 "This is another opportunity for young football talents to develop their dreams while still studying, and another platform for Nigeria to tap into a potential pool of top-class players," said Osagie Okunbor, Managing Director of Shell Petroleum Development Company of Nigeria Ltd (SPDC) and Country Chair Shell Companies in Nigeria.
NNPC/Shell Cup 2017 began with the preliminaries in May with state competitions which were concluded early June, paving the way for the zonal stage and quarter finals. Coaches from the current Dutch League champion, Feyenoord Rotterdam, will hold coaching clinics as part of the process for the semi-final and final matches which are planned for end June. Feyenoord Rotterdam is expected to improve the skills of the coaches, games masters and players bringing to bear their award-winning global youth football academy programme.
A total of N8.2 million will be awarded for the development of sports facilities in the top four schools with the 1st place winner receiving N3.5 million. In addition, the two Most Valuable Players will head to The Netherlands for a short stint with the Feyenoord Rotterdam Youth Academy. And, on completion of secondary education, the top 10 talents will be eligible to compete for NNPC/Shell university undergraduate scholarships.
Former Nigerian international and NNPC/Shell Cup consultant, Segun Odegbami, said: "Aside the monetary rewards, many young footballers have been discovered through this championship and they have gone on to represent the country in age-group football tournaments. Several have graduated to the Under-23 team and then on to the Super Eagles level. Professional clubs in Nigeria and overseas have often used the platform of the NNPC/Shell Cup to scout for talents for their teams. In a way, everybody is a winner in this football tournament."
The NNPC/Shell Cup tournament was initiated in 1998 by the SPDC Joint Venture comprising the Nigerian National Petroleum Corporation, Total Exploration and Production Nigeria, and the Nigerian Agip Oil Company. A notable success in the 19 years of the tournament is the reduction in the number of students who have successfully combined their education even as they prepare for a rewarding career in football.