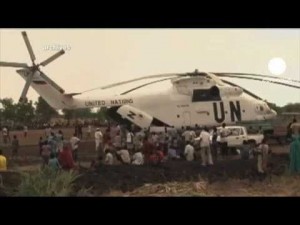 Three people lost their lives while one person was reported injured late Tuesday as a helicopter belonging to the UN Mission in South Sudan (UNMISS) crashed.
Information released to the press by the the mission indicate that three members of the crew aboard the helicopter died while another was wounded when the crash occurred in the Unity State area of South Sudan.
The location of the crash is near Bentiu, the capital where government troops have been locked in intense fighting with rebels led by former Vice President, Riek Machar.
"The United Nations Mission in South Sudan confirms that one of its MI-8 helicopters has crashed about 10 km south of Bentiu in Unity State," the mission said.
UNMISS reported losing contact with the helicopter, which was on a routine cargo flight from Wau to Bentiu at 14:28 hours on Tuesday.
The mission dispatched a search and rescue team to the site of the incident shortly after news of the incident surfaced, adding that "Investigations regarding the cause of the incident will begin as soon as possible."
A conspiracy theory has it that the helicopter might have been targeted by the rebels although it has been neither confirmed by the South Sudanese government nor the UN mission.
The incident took place only one day after the South Sudanese government and the rebels reached a fresh truce in Addis Ababa, Ethiopia.
The Intergovernmental Authority on Development (IGAD), who mediated the truce, gave the warring parties 45 days to reach an agreement on the formation of a transitional government of national unity.