Wife of the Executive Governor of Kebbi State, Dr Zainab Bagudu, on Saturday, October 21, 2017 said  about 250,000 Nigerian women die of cancer annually.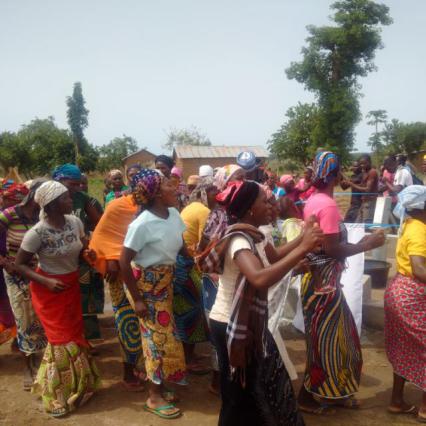 She said this during a walk to create awareness on cancer in Abuja with the theme: " Walk Away Cancer''.
According to her, the walk is to create awareness as well as to try and save 250 women who die from cancer annually.
Bangudu noted that 95 per cent of women who developed cancer in the developed society had five years of survival, saying that Nigeria had only five per cent survival rate.
She said that this year's event was using football as a tool to mobilise and create awareness, adding that "cancer is a global epidemic but it is worse in Africa''.
She, however, stressed the need for every hand to be on deck to remedy the poor statistics.
"Health care facilities in Nigeria are poor and weak and there is no effective screening system in place.
"We at MedicAid Cancer Foundation are reaching out for the low and poor people, and to improve awareness and as well disabuse the minds of people about cultural and traditional beliefs that cancer is caused by witchcraft.
"We also bring people together to raise funds so as to help the poor and the ignorant women of Nigeria who are dying from cancer yearly.
"Early screening of the breast and cervical for cancer will help to effectively detect and treat it," she said.
Mr Abubakar Bagudu, the governor of Kebbi State, said  creating awareness on cancer would help beat the disease as well as save lives.
According to him, awareness is an important element to ensuring that everybody, both the rich and poor had the knowledge about cancer.
"My wife, who is passionate about humanity took up the challenge and through Medicaid Foundation, has been organising cancer events annually.
"We are glad that people are responding and more awareness is being created and the significance of the walk is that something can be done about cancer.
" Exercise is very important in order to help prevent it,'' he said.
A cancer survivor, Folake Olabisi, said that early detection was important to saving lives and therefore stressed the need for women to have routine checks.
She admonished women with family history of cancer to always have themselves checked as well as pass on the habit to their children and future generations.
She, however, said that creating awareness and being courageous to talk about cancer would help in encouraging people to come out.
Mr Kanu Nwankwo, professional footballer and a former Super Eagles player, in his words advised that the awareness be taken to the rural areas  to reach the unreached.
He also appreciated the wife of the executive governor for the cause and pledged his support for the walk against cancer.
By Chinenye Offor