An ophthalmologist, Dr. Jaiyeola Adido, has said about 19 million children are blind globally.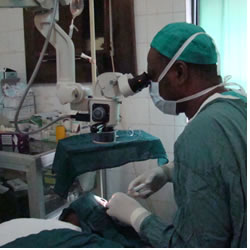 Adido, who disclosed to newsmen in Ilorin, the Kwara State capital,
on Saturday
, noted that children and the aged were usually vulnerable to eye diseases in Nigeria.
He identified cataract, glaucoma and diabetes as major causes of blindness world over. He emphasised the need for people to always have balanced diets to save them from visual impairment.
Adido advised Nigerians to constantly check up their eyes to ensure early detection and treatment of ailments that could lead to blindness.
He counseled Nigerians to shun superstitious beliefs associated with blindness, stressing that the situation was largely responsible for the escalation of blindness in the country.
Adido identified the inability of children to copy note in school as a refractive error, which he noted could be corrected with the prescribed eye glasses.
NAN.