In response to the global food and nutrition crisis, USAID and Feed the Future, the U.S. government's global food security initiative, is expanding efforts to directly address and mitigate the impacts of the global food, fuel, and fertiliser shortages in Nigeria.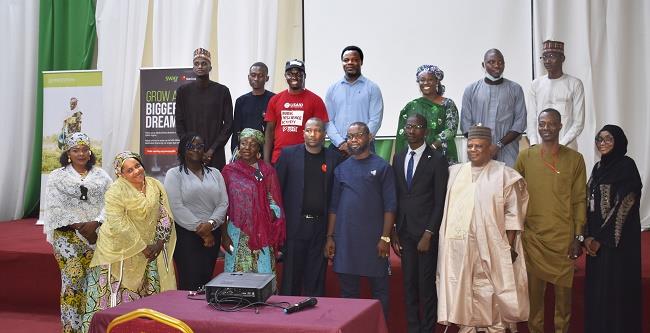 The USAID-funded Feed the Future Nigeria Rural Resilience Activity, implemented by Mercy Corps, in collaboration with the International Fertiliser Development Centre (IFDC) and Save the Children International (SCI), disclosed that 262 of its participants have received a Sterling Bank Agric loan to boost their productivity and increase yields.
On August 16, 2022, in Gombe State, the bank and the Rural Resilience Activity launched a disbursement ceremony to celebrate the significant contribution of N82.4 million in loans. Recipients included women and youth farmers and agribusiness owners in the Northeast states of Gombe and Yobe.
Many belong to cooperatives supported by the Motherhen Development Foundation (in Akko and Kwami, Gombe State and in Yobe State) and the Sustainable Household Income and Enhanced Livelihoods initiative.
During the disbursement ceremony, the Group Head, Agric Finance & Solid Minerals Group of Sterling Bank, Dr. Olushola Obikanye, said: "Sterling Bank is proud to lead this critical effort at rebuilding the economic fortunes of Northeast Nigeria by providing appropriate and demand driven financial services that align with the aspirations of women and young people in the region and across Nigeria who are often excluded from financial services. This partnership will significantly improve the living standards of farmers and other vulnerable people by boosting food sufficiency and poverty reduction as a prerequisite for de-escalation of insecurity and conflict in the North-East."
The loans are in response to rising food insecurity and inflation, which are attributed to challenges that predate the Russian invasion of Ukraine such as the economic impacts of Covid-19 as well as other macro-economic conditions like misguided trade, agricultural, and monetary policies.
Food production is hindered by farmers' inability to afford high-quality agro-inputs due to rising costs (50-100% higher in one-year), as well as inaccessible farmlands, high costs of doing business, distorted markets, and rising costs of transporting food items, which result in significant profit losses.
In December 2020, Mercy Corps signed a memorandum of understanding (MoU) with Sterling Bank to increase access to finance and working capital for smallholder farming households. Since then, Sterling Bank has been working with the Rural Resilience Activity to address constraints to agricultural lending such as loan repayment, financial illiteracy, access to higher-value markets, and information around climate-related risks.
Speaking on the gains of the partnerships, Acting Country Director of Mercy Corps Nigeria, Mrs. Adesola Osuji, said: "The loan disbursement to the women-led farmers' cooperatives will not only foster financial security and increase economic opportunities for the women but also contribute to advancing food security and nutrition, and to breaking the bias against women. It will further project women as key stakeholders in the food industry.
"We are proud to be working hand in hand with Sterling Bank to support more than 204 maize producers and nearly 300 hectares of land in Akko and Kwami LGAs of Gombe State, as well as 58 cowpea producers in Yobe State to access agricultural inputs and tractors to increase land productivity and jointly tackle food insecurity. We look forward to ensuring that more farmers in the North-East continue to gain access to finance and working capital," said Mrs Margarita Aswani, the Chief of Party, Feed the Future Nigeria Rural Resilience Activity.
The Sterling Bank and Mercy Corps interventions target smallholder farmers and microenterprises working in the agricultural and non-agricultural sectors with a particular interest in young people and women. The scope covers maize, cowpea, groundnuts, rice production, and small ruminants. The partnership between the two organisations is expected to benefit more farmers groups in the targeted Northeast states soon.