The United Nations Children's Fund (UNICEF) on Tuesday, January 22, 2019 urged government at all levels to pay more attention to children in poor communities in the implementation of Sustainable Development Goals (SDGs) to achieve result.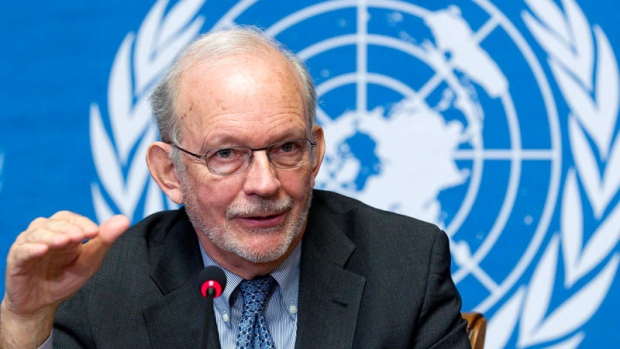 Mohammed Fall, UNICEF Country Representative, Nigeria, made the call at a two-day Acceleration Conference on SDGs, organised by Kaduna State to strengthen partnership with local and international partners for effective implementation.
According to him, there is a much higher return on investment, with double fold gain, when investment is made on the poorest children, compared to those who are wealthy.
"This is important as out of pocket expenditure among the poor is around 80 per cent," he said.
Fall also stressed the need to focus attention on outreach activities targeting communities, households, parents, pregnant women and children, prioritising preventive rather than curative services.
He said that UNICEF would support Kaduna State Government to integrate intervention of health, nutrition, education, water and sanitation services to accelerate attainment of SDGs.
"We have recently signed a memorandum of understanding with the state government, integrating our support in routine immunisation to a broader partnership, building on primary healthcare under one roof.
"This is part of our effort to take health services to poor communities in all parts of the state, to ensure that women and children have a chance of survival and a quality life.
"We want to see a situation whereby a pregnant mother, a nursing mother, and children could access all health services in one health facility, be it immunisation, nutrition, antenatal care, sanitation or hygiene," he said.
He commended the state government for making huge investment in the health sector, adding that Kaduna state had paid over N1 billion as counterpart fund to different intervention areas with UNICEF.
He, however, expressed concern over the state's disturbing malnutrition and sanitation indices, which he said, would impair progress being made in primary healthcare service delivery.
Earlier, Susna De, Interim Deputy Director, Bill and Melinda Gates Foundation, stressed the need to harmonise health intervention, to achieve more result.
De also called on the government to mobilise community leaders and the private sector to invest in the provision of health services, adding that funding must be increased, and budgetary allocation, cash-backed.
She said that the foundation would continue to support the Kaduna state government in ensuring quality of health services at primary healthcare centres.
Dr Eugene Kongnyuy of the United Nations Population Fund stressed the need to build a health system that works and takes health services to the door step of the people.
Kongnyuy expressed concern that about 70 per cent of women in Kaduna state delivered outside health facilities, which, according to him, predisposes pregnant mothers to complications during delivery and untimely deaths.
He also noted the need for a robust accountability framework that would ensure transparency in the health sector for quality service delivery.
The state's Commissioner for Health and Human Services, Dr Paul Dogo, said that the state government had in the last three and a half years, focus attention on building health system that work.
According to him, no amount of funding will create a positive health outcome without the existence of a strong health system.
"This is why the government partnered with local and international partners to build health system, particularly primary healthcare, to provide quality services.
"Our health outcomes are improving but we need more support to do more towards achieving SDGs by 2030," he said.
By Philip Yatai