The somewhat fascinating spatial development of the Nigerian commercial capital city of Lagos appears to have engaged the interest of eggheads at the University of California, Berkeley (UC-Berkeley) in the US who have been exploring its strengths and weaknesses.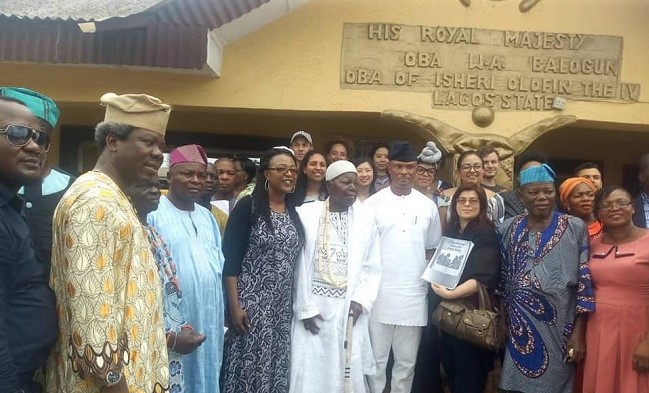 Indeed, two Departments in the Ivory Tower – City and Regional Planning, as well as History of Art – in a collaborative effort under an interdisciplinary graduate research spring semester course have made the sprawling city the focus of their study.
The programme informed a visit to Lagos from March 21 to 31, 2019 for cultural exchange and to learn about the city's challenges of urban planning by a team of 15 graduate students and their instructors – Ivy Mills, a Professor of Visual and Literary Cultures of Africa and the African Diaspora, and Charisma Acey, an Assistant Professor of City & Regional Planning.
The visit was organised in collaboration with the Pan African Vision for the Environment (PAVE), a Lagos-based non-governmental organisation.
One of their points of destination by the visitors was the office of the Chairman, Egbe-Idimu Local Council Development Area (LCDA), Kunle Olowoopeje Sanyaolu, and Palace of the King of Isheri-Olofin, Oba Wahab Balogun, where Mills, Acey and the students interacted with council and palace officials as well as guests. There was also a Town Hall Meeting that was attended by local youth organisations.
Prof Acey said they travelled to Lagos to witness recent investments in public art and the state's Mega City Project, including green initiatives like Eko Atlantic, an elite development project on a gated man-made island described by critics as eco-gentrification on a grand scale.
Prof Mills said the programme would consider current top-down urban planning development attempts to beautify and rebrand Lagos alongside the displacement of legally-recognised waterfront slum communities.
Anthony Akpan, President of PAVE, said the team paid particular attention to visual representation's central role in struggles over land and competing visions of the Lagos of the future – visions that impact planning practices and people's livelihoods in concrete ways.
Prof Acey added that UC-Berkeley would continue to partner with PAVE and other community activists to develop interventions that build on local strategies of visual activism as co-production in securing the right to the city.
"We will also engage with artists and architects who draw from Lagos' informality, creative transformations of land and material, ecologies and spiritualities to imagine a future city for all and employ analytics and methodologies from urban planning and visual culture studies to investigate how things happen in Lagos," she said.
PAVE is said to collaborated with the university for some 14 years on research projects in Lagos.
Lagos is said to be notorious for its ever-expanding population, massive infrastructural challenges, and controversial practices of state-sanctioned land capture.
In a course flier, the institution said about Lagos: "Neighborhoods branded as undesirable slums are razed – their inhabitants violently displaced and economies destroyed – as the region's ecology is disrupted by the transformation of watery realms into habitable surfaces through landfilling.
"At the same time, the city is a dense hub of inspiring creativity, hustle, and entrepreneurship. Lagosians have devised ingenious ways of making things happen – often in the absence of functional formal systems, and in the face of outright state hostility."