The Polymer Institute of Nigeria (PIN) has described the move by the National Assembly to ban single-use plastics in the country as a "lazy man's approach" to the climate emergency.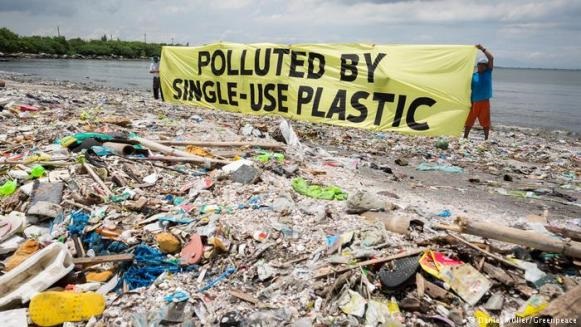 PIN President, Prof. Paul Mamza, stated this during its 30th Technical Conference and Annual General Meeting held on Thursday, October 24, 2019 in Ibadan, Oyo State.
The conference was themed: "Polymer Waste Management: A Source of Economic Recovery in Nigeria".
Mamaza said: "It is no more secret that the management of polymer wastes, especially plastic waste, has been a recurring decimal in the national discourse.
"With some politicians and public analysts seeking for outright ban on plastics in Nigeria without appropriately reasoned scientific and technological analyses of ramifications and impact of such decision on the national industrial development.
"Of recent, the House of Representatives considered a bill that would prohibit the management and use of single plastic bags in Nigeria.
"This is worrisome because in some countries like Singapore, plastic wastes are used to generate power, considering the outright banning of single-use plastics is a lazy man's approach."
According to him while single-use plastics constitutes environmental hazards, outright banning is not the solution where plastic waste can be used for the much-needed revenue generation and diversification.
"The government of Nigeria rather than ban single-use plastics should engage the polymer professionals in finding ways of disposing plastics which is environmentally friendly and utilisation of wastes to generate wealth.
"There is huge revenue potential in polymer wastes and the ban of single-use is not a viable solution for a technological advanced country like ours."
He urged members of the association to work with the government to tackle the menace of polymer wastes in the country.
"We live in an age in which practically almost everything we throw away is made of eternal indestructible plastics because plastics are fast replacing traditional materials due to its low cost and higher technical advantages.
"With the hazards associated with the disposal of plastics, there is urgent need for polymer professionals to engage government in robust methods through the use of biodegradable plastics and utilisation of plastic wastes for economic recovery in Nigeria," he said.
Prof. Aliyu Jauro, Director-General of the National Environmental Standards and Regulations Enforcement Agency (NESREA), called for collective responsibility of producers, manufacturers, retailers, distributors to effectively tackle the menace of plastics wastes which constituted environmental emergency.
Jauro, represented by NESREA Director of Inspection and Enforcement, Mrs Miranda Amachiree, described the PIN conference as an important contribution to the quest for environmental sound management of plastic waste and at for waste to wealth creation.
By Oluwabukola Akanni