After two and a half years of virtual processes due to Covid-19 restrictions, technical experts resumed in-person meetings in Bonn for the technical analysis of developing countries' biennial update reports (BURs). It was held from June 20 to 24, 2022, and included 32 technical experts from diverse climate change-related thematic areas, representing various developed and developing countries across Africa, the Americas, Asia, Europe and Oceania.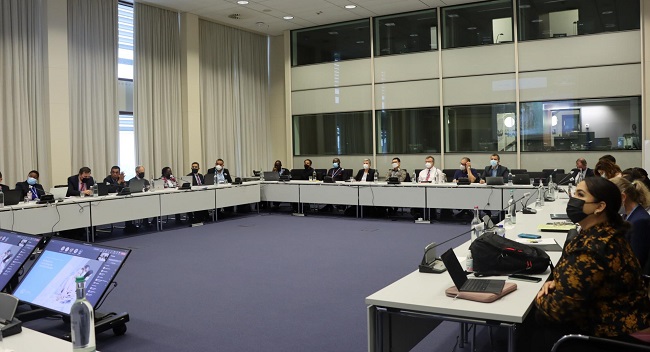 Lebanon, Malawi, Mauritius, Montenegro, Republic of Korea, Republic of Moldova and Trinidad and Tobago constitute the seven countries that were involved in this 22nd session of the technical analysis (TA22). The technical analysis marks the first step of the International Consultation and Analysis (ICA) process which seeks to increase the transparency of mitigation actions and their effects, based on the information submitted by developing countries through their BURs.
For Malawi, Mauritius and Trinidad and Tobago, it was their first BUR submission, the third for Moldova and Montenegro, and the fourth for Lebanon and the Republic of Korea.
Some key mitigation actions in the participating countries
The countries through their BURs have demonstrated rapid adoption and implementation of emission reduction strategies, policies, regulations, programmes and projects across the sectors of energy, Agriculture, Forestry and Other Land Use (AFOLU), industrial process and waste.
Malawi, for example, has been actively engaged in afforestation and reforestation. Since 2011, the country has planted over 50 million trees each year. This effort will increase Malawi's carbon sinks.
The Republic of Moldova, through its Low Emission Development Strategy 2030, has also outlined a massive agenda towards afforestation. This includes 3,800 ha afforested annually, 12,000 ha of planted protection forest belts, and 10,000 ha of planted forest energy crops. The goal is to unconditionally increase, by 2030, the country's carbon sequestration capacity to 62% and GHGs sequestration up to 76% compared to 1990.
The Government of Trinidad and Tobago is particularly targeting to offset the power required from fossil fuel generation by implementing the production of blue and green hydrogen for e-fuel conversion. The measure is currently ongoing and aimed at decarbonising the energy, industrial and transportation sectors, which are heavily dependent on fossil fuel. It will incorporate a greater percentage of biofuels in the country's energy mix and replace 3,194 TJ of natural gas per year by 2050.
Montenegro, on the other hand, seeks to phase-out coal and curtail operations of coal-fired thermoelectric power plants in Pijevija no later than 2030 and ensure a just energy transition in the Pijevija coal region. The associated emission reduction potential of such action is 2.5 Gg CO2eq.
In Lebanon, the combination of the decreasing cost of solar photovoltaic (PV) and increasing cost of oil has created a considerable incentive for industrialists and retailers to reduce their diesel consumption by investing in solar photovoltaic systems. It is estimated that such an increase in electricity generation from PV has avoided 125,561 tonnes CO2eq of emissions during the 2016-2018 period, which is equivalent to 41,853 tonnes CO2eq. per year.
The Republic of Korea is leveraging a market mechanism by introducing an Emission Trading System in order to manage greenhouse gas emissions from industrial and development sectors in a cost-effective manner and to promote low-carbon industries. The mechanism consists of three phases, with Phase I occurring between 2015 and 2018. The volume of allowances traded within the period was 86.2 million tCO2eq.
In addition to measures in the energy sector to foster transition to renewable energy, Mauritius is implementing projects in the transport sector such as the Metro Express Project, which is the first Light Rail Transit system in Mauritius, with a length of 26 km, seeking to serve as an alternative means of transport and considerably reducing carbon emissions as well as relieving traffic.
Although much progress has been achieved in accelerating mitigation efforts and reporting in developing countries, participating countries highlighted the need for financial and technical support and resources to scale-up measures to meet the goals of the Paris Agreement.
Adoption of improved inventory methodologies
The technical analysis also reiterated that developing countries are advancing in their efforts to improve transparency of their data by adopting more up-to-date methodologies from the 2006 IPCC Guidelines for National Greenhouse Gas Inventories. All seven countries that participated in the TA22 used the 2006 guidelines.
Capacity-building needs of the countries
During the technical analysis, the experts engaged in interactive consultations with the Parties to identify and confirm their capacity-building needs, which include enhancing national technical and institutional capacity with respect to data collection, selection of methodology to be applied, reporting of F-gases, as well as reporting and categorising the information on types of support received with internationally comparable indicators.
Parties also need capacity building in tracking the progress of results achieved for mitigation actions, including the capacity to use common quantitative and qualitative indicators for each individual mitigation action, and reporting on methodologies and assumptions used for mitigation actions. The capacity building will help the Parties to enhance transparency in reporting their climate actions in the future and especially to prepare for the Enhanced Transparency Framework (ETF) to be implemented under the Paris Agreement.