Phivolcs cites 'abnormal activity' such as drying wells, more earthquakes, and increased sulphur dioxide emission of the volcano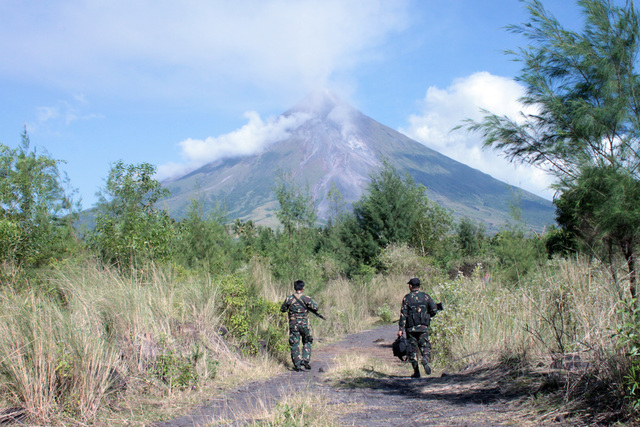 Scientists at the Philippine Institute of Volcanology and Seismology (Phivolcs) have warned of a possible "big" Mayon volcano eruption in the coming days. The warning was issued at the weekend.
"Phreatic explosion may happen anytime but a big explosion is expected in the coming days," said Philvolcs resident volcanologist Eduardo Laguerta.
Laguerta cited "abnormal activity" similar to what happened prior to the Mayon eruption in 1984.
The 1984 Mayon eruption is classified as a Vulcanian-type eruption which involves relatively small but violent explosions of thick lava producing columns of ash, gas, and occasional pyroclastic flows.
"The massive drying up of wells across Albay, specifically in the municipalities surrounding the volcano, may be attributed to the magma movement activity beneath the restive volcano," Laguerta added.
He also cited the three consecutive earthquakes in August originating from the Sto Domingo fault line, which can affect volcanic activity.
Laguerta said his office asked geodetic engineers from the Phivolcs central office to conduct a ground survey around the volcano following the earthquakes.
"We noted after the survey, Mayon is inflated, magma beneath the volcano is building up. Deep wells are drying up surrounding the volcano and in several towns here – an implication of abnormal activity," he said.
Magmatic eruption possible
Laguerta said that while magma build-up did not progress past the belly of the volcano during its explosion in 2014, a "magmatic eruption" may happen this time around.
"Today the possibility to continue for magmatic eruption is possible. We cannot discount the possibility of big explosion," he said.
With these latest findings, Phivolcs raised Mayon to Alert Level 1.
According to a Phivolcs advisory, its monitoring showed the following:
Increased sulphur dioxide emission from the Mayon crater, or beyond the baseline level of 500 tons per day, even exceeding 1,000 tons per day on some days, since July 2016
Increased volcanic earthquake activity, with a total of 146 earthquakes recorded by the Mayon Volcano Observatory seismic network from August 3 to August 6 on the southeast side, 10 kilometers away from the volcano
Four of the 14 monitored water wells located on the southeastern side of Mayon are drying up, while one has completely dried up
Steam activity from the crater has ranged from weak to moderate, and no crater glow – which would indicate magma activity – has been observed. Even so, Phivolcs warned of a phreatic explosion anytime that could lead to a big eruption.
Rocks and steam are spewed out during a phreatic explosion.
Laguerta also reiterated the government's warning for the public to stay out of the 6-kilometer danger zone, to avoid casualties.
In 1993, 77 farmers were killed, while several foreigners and their Filipino tourist guide were killed in phreatic explosions in 2013.
Cedric Daep, Albay Public Safety and Emergency Management Office (Apsemo) chief, said there are 18,000 people living along the slopes of the volcano.
Mayon has an elevation of 2,462 metres and is about 300 kilometers away from Manila. Its worst eruption was in 1814, which killed 1,200 people.