After more than 50 years of continuous oil spills into Nigeria's Niger Delta, Shell oil has reportedly caused another big oil spill, this time in and around the village of Aghoro in Bayelsa State.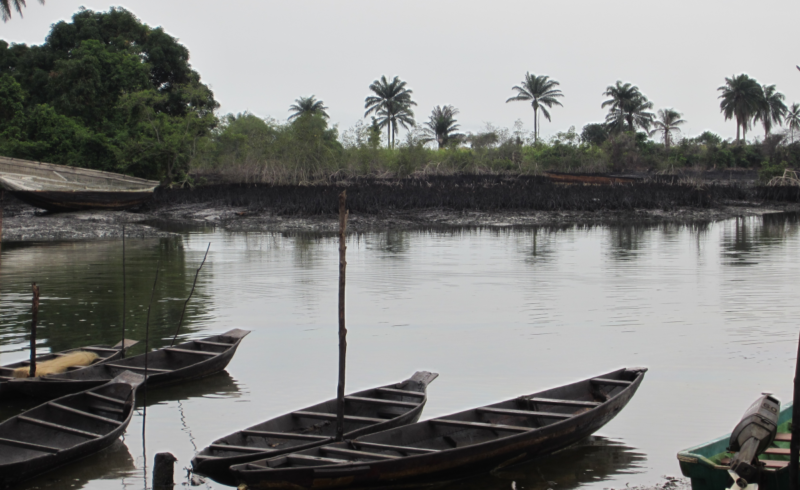 On Thursday, May 17, 2018 (although some reports state the spill began much earlier, on April 24, 2018), the Aghoro community experienced a significant oil spill due to what is said to be a mechanical failure in Shell's 24" Trans-Ramos Pipeline across Bayelsa State.
Dr. Ebikeme Festus Odubo, an environmental consultant and a regulator in the United States, who also is from Aghoro Community, recently visited the spill site to examine the spill's effects first hand.
"The impact of the ecological devastation from this oil spill on the community, its citizens, and our way of life is tremendous. This tranquil community of fisherman, farmers and people who, for centuries, have relied upon our natural resources for life-sustaining purposes will be changed forever," stated Dr. Odubo.
The Aghoro River and its productive mangrove forests, which serve as a major resource for the livelihood of its residents, has been covered in crude oil, severely affecting fish and wildlife in the area. The Aghoro River is also the main source of drinking and cooking water for the community. The incident is said to have resulted in an impending food, health, and environmental crisis in the financially impoverished area.
Yeitiemone Frederick Agbedi, a member of the Nigerian House of Representatives serving the Aghoro community, recently stated: "This is a devastation on the people and the environment.  A medical team should have been on the ground before now, dealing with expected medical issues and conditions. Shell should have made provision for alternative water supplies for these Communities having ruined their source of cooking and drinking water."
Professor Richard Steiner, a marine scientist and oil spill expert in the University of Alaska who has worked on oil spills in the Niger Delta for many years, says the 2018 Aghoro spill is yet another tragic example of Shell's reckless treatment of the Niger Delta environment and people.
"This is an old story in the Niger Delta. Shell consistently fails to maintain its pipeline network to global Best Available Technology (BAT) standards as required by the Nigerian federal law. Their pipelines continue to fail, causing massive oil spills and severe environmental and human health injury. Shell then resists its legal responsibility of spill clean up, claims compensation, environmental restoration, and repairing/maintaining its pipelines. This historic corporate recklessness needs to end," Steiner said.
Nigeria, one of the world's most oil rich countries, has a history of catastrophic oil spills that have wreaked havoc on the environment and local communities. The Aghoro Community is in Ekeremor Local Government Area of Bayelsa State, Nigeria.
Because of the extensive oil spill, Dr. Odubo and Prof. Steiner call for an immediate corporate and humanitarian response to assist the people of Aghoro and its neighboring communities in Bayelsa State with food, clean water, health and medical care, spill clean up, victim's claims compensation, and an environmental restoration programme.