The recent catastrophic oil and gas blowout at Nembe, Bayelsa State, again tragically highlights the continuing failures of oil management in Nigeria. The Nembe blowout continued unchecked from Nov. 1 to Dec. 8, 2021, releasing (by my estimate) a minimum of 500,000 barrels to 1 million barrels of toxic hydrocarbons (oil and gas) into the sensitive coastal mangrove ecosystem. Even by world standards, this was one of the largest oil and gas blowouts in history.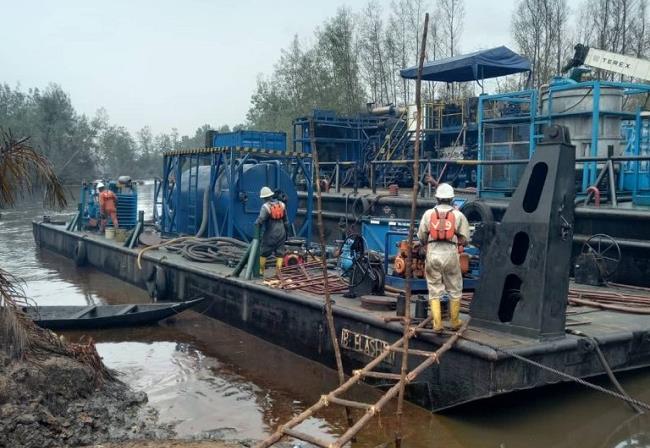 The Nembe disaster highlights the continued failure of Nigeria's federal government and oil industry to ensure the safety and integrity of oil and gas operations in Nigeria. Aiteo and its government joint venture partner, Nigeria National Petroleum Corporation (NNPC), are required by Nigerian law to maintain their oil infrastructure to global best practice standards, in safe and secure operating condition; to be able to promptly detect and respond to any pollution release, such as a wellhead blowout; to promptly stop a release; to promptly commence an effective oil spill cleanup operation; and to promptly initiate a scientifically credible environmental damage assessment. The Responsible Parties for the Nembe blowout failed all of these legal requirements.
And now, seeking to avoid financial liability for their negligence, Aiteo and the federal government are trying to blame the blowout on sabotage, presenting no evidence in support of such a claim. Despite our earlier recommendation that they secure the failed wellhead in a rigorous chain-of-custody evidentiary process to prevent evidence tampering, and then subject the evidence to independent forensic assessment by independent experts, the Responsible Parties did none of this. Instead, they did what they always do – blame others in order to avoid responsibility or liability.
And importantly, even if the Nembe spill had been caused by sabotage (which remains unproven), the government and oil industry have, under Nigerian law, a duty of care to ensure the safety and integrity of oil operations and to prevent such third-party damage. The government and Aiteo obviously failed on this account. Clearly both Aiteo and NNPC were negligent in failing to prevent and promptly respond to the Nembe spill. Thus, they should be held fully liable under Nigerian law for all damages.
More broadly, it is high time for such unconscionable corporate and governmental behavior to end. The Nembe spill disaster must be used to usher in a new paradigm for oil responsibility in Nigeria.
The 30,000 square mile Niger Delta — including rich coastal waters, islands, mangroves swamps, and rainforests — was once one of the most productive and diverse ecological habitats on Earth. But today, after almost 70 years of oil extraction, the region's environment and society are devastated — a textbook example of the "oil curse." In 2006, our team of scientists conducting the first oil environmental damage assessment in the Niger Delta, concluded that the Delta is the most severely oil-damaged environment anywhere in the world. In addition to thousands of barrels of oil spilled annually, we found that oil operations have caused extensive habitat degradation from road building, forest clearing, dredging and filling, thousands of miles of pipelines, and chronic pollution from gas flaring and drilling wastes.
Oil in the Niger Delta has fueled a dangerous mix of environmental devastation, poverty, human rights abuse, violence, corporate greed and exploitation, epidemic corruption, massive oil theft, repression, anger and despair. Despite hundreds of billions of dollars earned from the Niger Delta's oil, the region's millions of residents, mostly subsistence fishermen and farmers, remain some of the most impoverished people in the world. Due to decades of government and industry neglect, these fine people continue to eat oil-contaminated food, drink toxic water, breathe polluted air, and are chronically unhealthy, with average life spans less than 50 years.
The business model for oil companies in the Niger Delta has been simple: produce as much oil as quickly and as cheaply as possible; exploit inadequate government oversight; cut corners and costs on safety, monitoring, and maintenance; ignore or blame others for oil theft, spills and violence; pay bribes to government, military and police when needed; continue making huge profits as long as possible; and then leave. And as the federal government is a joint venture owner of oil projects and relies on oil for much of its revenue, the government habitually turns a blind-eye to the ongoing crisis. Tragically, this is exactly what has happened so far at Nembe. Clearly, the people of the Niger Delta deserve better from their federal government.
Our 2006 scientific team estimated the financial damage from oil in the Niger Delta to be in tens of billions of Dollars. We recommended full compensation, an immediate upgrade of all oil infrastructure to global best practice standards, an end to gas flaring, and a comprehensive Delta-wide cleanup and restoration programme. Subsequent assessments, including by the U.N. in 2011, confirmed our conclusions and recommendations. Unfortunately, little progress has been made since.
After years of delay, the Nigerian government finally initiated its Hydrocarbon Pollution Remediation Project (HYPREP) spill restoration programme in Ogoniland, which is certainly long overdue. But the project will only address a portion of the impacted Delta ecosystem, and has reportedly had significant delays and problems. This slow, partial, incremental approach will not solve the larger crisis, and local people can't afford to wait decades for justice and restoration.
Until all claims and grievances across the entire region are equitably resolved, the oil infrastructure is upgraded to highest international standards, and the ecosystem is cleaned up and fully restored, there will likely be no peace or sustainable development in the Niger Delta.
As the Nigerian federal government remains unwilling to initiate a comprehensive restoration effort on its own, the U.N. should be asked to convene an independent Niger Delta Restoration Commission, vested with the full legal authority to resolve the crisis. The Niger Delta Restoration Commission should function as an arbitration body, with similar authority to South Africa's post-apartheid "Truth and Reconciliation Commission." We proposed this for Nigeria over a decade ago, but the U.N. deferred to the Nigerian federal government, who ignored the suggestion.
Given the recent disaster at Nembe, and the continuing avoidance of responsibility by the Nigerian government and oil industry, it seems an appropriate time to convene the proposed Niger Delta Restoration Commission to implement a comprehensive restoration initiative across the entire Delta, with the following core elements (most of which are already required by Nigerian law):
Require the industry to upgrade its oil infrastructure to international best available and safest technology standards to prevent future spills. Substandard infrastructure must be removed or replaced; waste dumping, gas flaring, and illegal bunkering must end; and if a company cannot meet this global best practice standard, its permit to operate must be immediately revoked.
Cleanup and remediate all oil already spilled.
Restore all ecological and socioeconomic systems injured by oil, including fisheries, hydrology, agriculture, freshwater, and other socio-ecological systems to the maximum extent possible.
Compensate the people of the Delta in a fair and just manner for all injury caused by the oil industry.
Establish an equitable oil revenue sharing regime for all people in the Delta.
Expedite judicial proceedings to hold those guilty of corruption or violence accountable, restoring the rule of law.
Enact improvements in governance and corporate behavior to secure future environmental and social integrity of the Niger Delta.
Although much of this is already required in Nigerian law, these requirements are seldom, if ever, enforced by the federal government. The proposed Niger Delta Restoration Commission will need tens of billions of dollars, which should be paid by all oil companies in the Delta, and the Nigerian federal government.
By comparison, BP paid over $65 billion for its 2010 Deepwater Horizon spill in the U.S. Gulf of Mexico. Oil spill damage in the Niger Delta is more severe and has persisted for many decades, but oil companies in Nigeria have paid only a small fraction of this amount. This is clearly unjust, and must be remedied.
The oil companies in Nigeria have a legal and ethical responsibility to fix their mess, and they have the money to do so. It is now up to the Nigerian government (and the U.N.) to move this comprehensive restoration process forward. If they do, then hopefully by 2030 the Niger Delta can be restored to the vibrant ecosystem and sustainable, peaceful society it had been before oil was discovered there in 1956. And that would indeed be an historic achievement for all involved.
Richard Steiner is an international oil spill expert who for decades has worked on preventing and assessing environmental damage from oil spills around the world, including the Niger Delta.
He was a professor of marine conservation at the University of Alaska, and founder/director of Oasis Earth, in Anchorage Alaska (www.oasis-earth.com). He serves as the Technical Advisor to the Ijaw Diaspora Council