Climate change activists poured fake blood across the road at the gates to Downing Street Saturday, March 9, 2019 to highlight their campaign against government policies.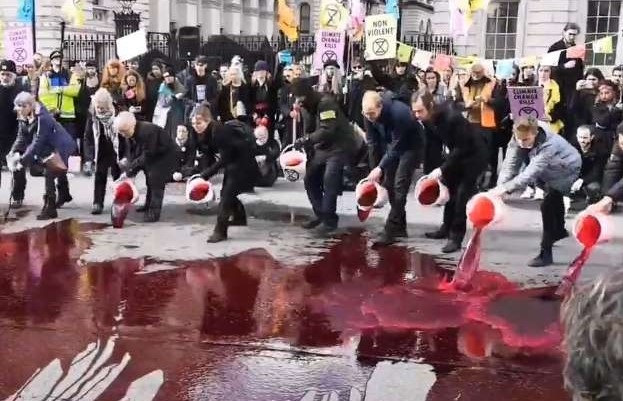 The Downing Street is the site of the British prime minister's residence in London.
Extinction Rebellion said the protest saw its activists "break the law today in a symbolic act of civil disobedience to rebel against this toxic system that is killing people.''
"Government must act on the climate and ecological crisis now,'' it said on Twitter following the event in central London, while several protests – apparently without the fake blood took place in other British cities.
"Life on Earth is dying. We believe it is our duty to act,'' the group tweeted.
"Together, let's unite and insist our governments take action for us, our children and all life!'' the group said.
Extinction Rebellion was launched in 2018 by several environmental groups.
It wants the British government to "tell the truth about the climate and wider ecological emergency, reverse inconsistent policies and work alongside the media to communicate with citizens.''
It urged the government to enact legally binding policy measures to reduce carbon emissions to net zero by 2025 and set up a national citizen's assembly to oversee changes in environmental policy.