Even as the curtains were officially drawn on an initiative aimed at sustainably managing e-waste in Nigeria on Thursday, September 29, 2022, stakeholders listed the outcome of the pilot project.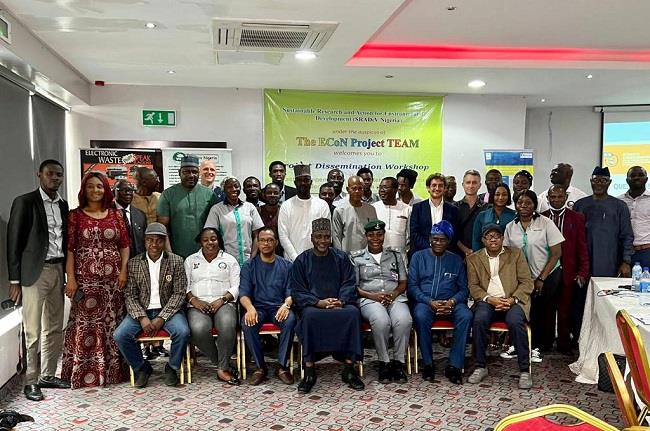 Tagged "E-Waste Compensation as an International Finance Mechanism in Nigeria" or ECON, the project was implemented by SRADev Nigeria, OEKO-Institut e.V. (Germany), Closing the Loop (The Netherlands), Hinckleys Recycling Ltd (Nigeria) and Verde Impacto (Nigeria) as an international endaevour.
It was implemented in close cooperation with the National Environmental Standards and Regulatory Enforcement Agency (NESREA) towards facilitating the Extended Producers Responsibility (EPR) programme. The project was financed by the German PREVENT Waste Alliance and jointly implemented with the German Society for International Cooperation (Gesellschaft für Internationale Zusammenarbeit – GIZ).
At the Policy Stakeholder Meeting themed "Project outcomes and way forward" and held in Lagos, promoters listed the project objectives to include:
Advancing the concept of waste compensation
Collecting 30 t of waste batteries and flat panel screens
Advancing treatment solutions for waste Li-ion batteries and flat panel displays in Nigeria
Full responsible processing of collected e-waste
Capacity building in the Nigerian waste sector
The EcoN project aims to expand a business model known as "waste compensation" to Li-ion batteries and flat panel displays allowing the support of environmentally friendly collection and treatment in Nigeria and beyond.
It also aims at effective pilot and demonstration of the mechanisms for batteries and monitors that could be scaled as a funding mechanism in other countries and can be used as a blueprint for developing local policies and financing instruments in Nigeria.
One of the outcomes of the project, according to the promoters, is the realisation of the fact that links between (informal) collectors and formal recyclers can be built and developed. Some 21.7 t of screens and 11.4 t of Li-ion batteries collected through registered agents, who worked with local collection networks using incentives. Additionally, agents and collectors were trained and equipped with appropriate PPEs.
Another outcome is realisation that full responsible e-waste recycling is possible in Nigeria. After the manual dismantling of discarded items, circuit boards were exported to specialised refinery; metal parts sold to local metal industry; transparent plastics PPMA reused for solar lamps; sorting, shredding and sale of waste plastics to local plastic industry; and co-processing of BFR plastics in local cement kiln.
Promoters stated that the Li-Ion battery recycling still relies on (costly) exports. They added that: end-of-life Li-ion batteries contain hazardous substances and can cause fires and explosions, Africa lacks a recycling infrastructure available anywhere in Africa; that End-of-life batteries must be exported.
Other outcomes include:
Local Li-Ion battery recycling possible but comes with limited business interest.
Sound management of EoL Li-ion batteries is associated with significant costs, as without financing mechanism Li-ion batteries cannot be managed responsibly.
E-waste compensation is useful as steppingstone to larger solutions
E-waste compensation needs rules that must be ensured such that all money going into such compensation really benefits sound e-waste management
Sound Basel Convention notification procedures are vital, as proper e-waste recycling strongly relies on smooth and transparent Basel Convention notification processes.