The Nigeria Institute of Town Planners (NITP) has concluded plans to hold the maiden edition of its National Green Cities Summit from August 27 to 29, 2019 in Abuja, the federal capital city.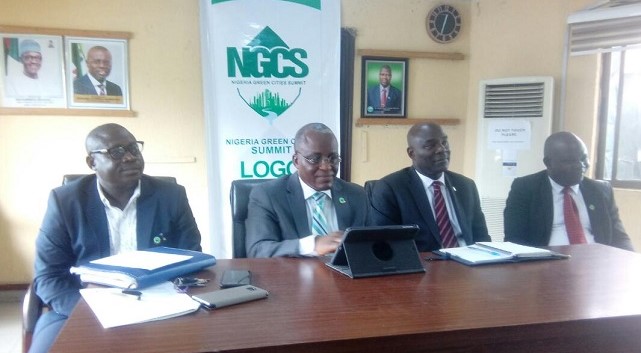 Themed "Brown to Green: Enhancing Wellness and Livability," the forum, which is part of the sectorial support on the country's resolve to tackle the menace of climate crisis, is expected to attract local and international organisations, representatives of Ministries, Department and Agencies (MDAs) of Federal, State, and Local Governments, manufacturing/industrial concerns, multi-lateral agencies, professional associations, consultants and civil society organisations.
Speaking at a media parley to unveil the programme in Lagos on Wednesday, July 31, First National Vice President of the institute and former Lagos State Commissioner for Physical Planning and Urban Development, Mr. Toyin Ayinde, said: "The summit is imperative because of the level of degradation experienced in Nigerian major cities, arising from abuse of the environment, primarily being been compounded by the unplanned rapid urbanization and decayed infrastructure.
"And there is no indication that the scenario will be reversed within a short time; hence the need to create a forum whereby key players and actors in city management will discuss, examine, analyse and evolve solutions to matters of environment friendly settlements.
"Therefore, the NITP is to use the outcome of the Summit as the core advisory for government and other key players in taking decisions or actions that will make cities and towns in Nigeria most friendly, effectively green and very livable at all times."
The former Lagos Commissioner stressed that the summit, to be declared open by the Governor of Imo State, Mr. Emeka Ihedioha, would be graced by renowned experts who would speak on various thematic areas like: Climate Change and City Reliance; New Urbanism and Green Economy; Sustainable Land Use Planning and Urban Design; and Green Building and Smart Construction.
Other talking points include Green Transportation and Workability; Public Health, Waste Management and Safety; and Green Space, Recreation, Tourism and Livability.
According to the organisers, Ihedioha has shown substantial commitment to the promotion of greens in major cities of the eastern state since his assumption of office few months ago. He is to be supported in the opening by three other state governors.
One of the high points of the event, according to Ayinde, is the conferment of Green City Awards on model (states) cities where their administrators have shown remarkable commitment to cleanliness, greenery, beautification, energy efficiency and smart construction.
"There is also the Green Promoter Awards, for corporate bodies whose processes and activities have continuously promoted green friendly or sustainability initiatives. And in this category, six organisations are considered for the award," Ayinde added.
Moses Ogunleye, Chairman, National Green Cities Summit, added that climate change has become a big phenomenal "and since we deal with land and environment in virtually all the activities, except for water and maritime that takes place on water, the efficient management of the land and environment resource is key.
"If you look at it from the energy of population growth in the country, from construction, housing, infrastructure, energy consumption and agriculture, town planners are at the centre of it all. Hence, we are concerned with doing our planning in a way that would significantly reduce the risk of climate change, teaching people on adaptation and mitigation.
"Even before climate change challenge, as a matter of standard, we have been saying, for resource conservation, greening, land use and sustainable development, minding deforestation, smart city planning, with beautification and greenery parks, having buffer are all essential for conservation," he submit.
Interestingly, the National Green Cities Summit is one of the seperate initiatives that is intended to support Nigeria in its quest realise its Nationally Determined Contributions (NDC) against the greenhouse gas emission.
The NDC initiative, which Nigeria signed unto last year September, is the country's input on the coordinated global response campaigns to stem the fang of climate crisis.
As a sign of commitment to deliver on this obligation, which consultants have speculated will gulp an outrageous sum of $142 billion, Nigeria, in a United Nations Development Programme coordinated efforts, has started engaging key sectors on the needed big switch to climate smart operations, with focus on adaptation and mitigation.
The Energy, Oil & Gas, Transportation, Agriculture and Industry sectors were identified as the big polluters of the atmosphere in the nation's NDC.
By Bankole Shakirudeen Adeshina