A call has gone to the Federal Government to reverse permits issued to Monsanto by the National Biosafety Management Agency (NBMA) to bring in genetically modified (GM) cotton as well as two varieties of maize. Government was likewise urged to restrict genetic engineering to laboratories in the National Biotechnology Development Agency (NABDA) and universities.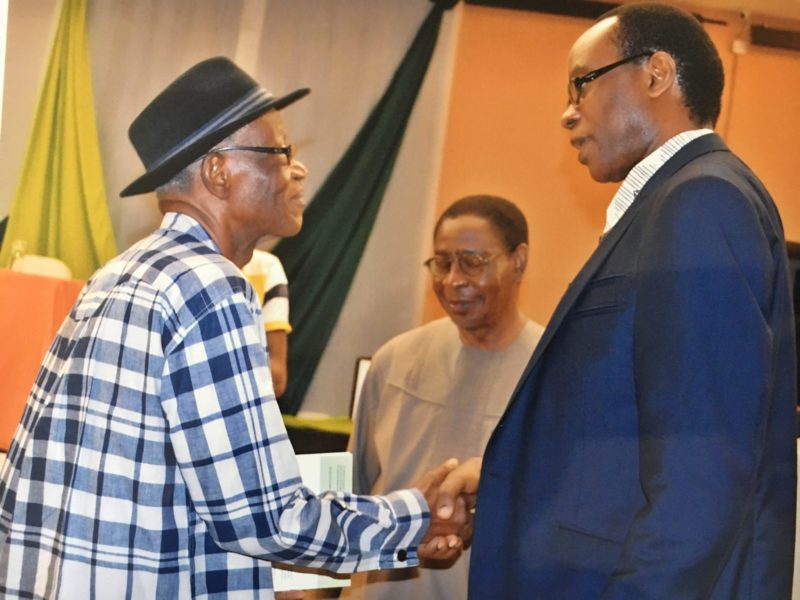 Nnimmo Bassey, Director, Health of Mother Earth Foundation (HOMEF), who made the submission in a presentation at the 18th Prof Bassey Andah Memorial Lecture on Saturday, 21 January 2017 in Calabar, the Cross River State capital, stated that the nation cannot afford the risks and health/environmental challenges associated with "the needless" genetically modified organisms (GMOs). According to him, national interest must trump other considerations.
Speaking on "Nigeria and Prodigal Environmental Stewards" as a guest lecturer at the event hosted by the Bassey Andah Foundation, Bassey lamented an emerging scenario he termed "a rapidly emerging threat to our agriculture and food systems" which, according to him, "is coming especially with the opening of the doors to flood Nigeria with GMOs by the National Biosafety Management Agency (NBMA)."
He said: "Within a year of the NBMA Act coming into effect, the agency received and rapidly issued permits to Monsanto to bring in genetically modified cotton as well as two varieties of maize. Although GMOs are presented as a panacea to hunger and malnutrition, these claims have not been shown to be true in reality. On the other hand, Nigeria can be sure of rapid erasure of crop varieties once the genetically modified ones are released into the environment and this directly threatens our food sovereignty, environmental and human health, as well as culinary heritage. Varieties that have been developed by our farmers and preserved over the centuries should not be lost simply to enhance corporate profit portfolios."
He however stresses that public agencies responsible for protecting the environment and related artefacts should be adequately funded and supported to perform their duties. "If this is not done, we may as well be in dreamland concerning halting our prodigal destruction and consumption of our inheritance," he noted.
While emphasising that the nation's ecological heritage is closely bound to its cultural heritage, the activist added that protecting and preserving the environment is the duty of every Nigerian.
"We all have the duty of bequeathing our environmental legacy to future generations. Consume less, protect more, and replenish the Earth. It is time to halt our profligate tendencies and think beyond ourselves. The proverb says: he that burns his father's house inherits ashes. We certainly do not want that."
Bassey insisted that communities should be empowered to manage the forests because, according to him, they (the communities) have the knowledge and the passion to preserve local biodiversity as well as the customs and traditions associated with such forests.
"Threats of displacement of forest communities without free prior informed consent and without regard to climate impacts, endangerment of biodiversity and destruction of watersheds must end. Deforestation, for any reason, must be halted. Trees and associated ecosystems cannot be replaced by planting two or more saplings for every one established tree felled. Trees are not carbon stocks and forests are not a mere collection of trees. Forests are arenas of life and theatres of culture," he said.
He submitted that, beyond the environmental audit, a programme for national environmental remediation should be mapped out and commenced. "We believe that this would not only assure us of a healthy environment, but would be a veritable means of creating jobs and rebuilding livelihoods."
He concluded: "Unless we know our heritage, we may not know what we have lost and are losing. There is an urgent need for an inventory of environmental assets in Nigeria. We urgently need to institute a regular assessment of the state of the Nigerian environment as a means of revealing threats and fashioning the means for tackling the threats. The last assessment was almost a decade ago, and it was more or less an inconclusive exercise."
Keynote address was presented by Prof. Lawrence Ezemonye, immediate past Deputy Vice Chancellor (Administration), University of Benin, Benin City, Edo State. Prof. Oladele Osibanjo, Chairman/CEO of Jawura Environmental Services Ltd., chaired the occasion.