For the second time, Dr. Mithika Mwenda, Co-Founder and Executive Director of the Pan African Climate Justice Alliance (PACJA) has been named among 100 top most influential individuals in the world for 2022/23 year period by the Apolitical.co.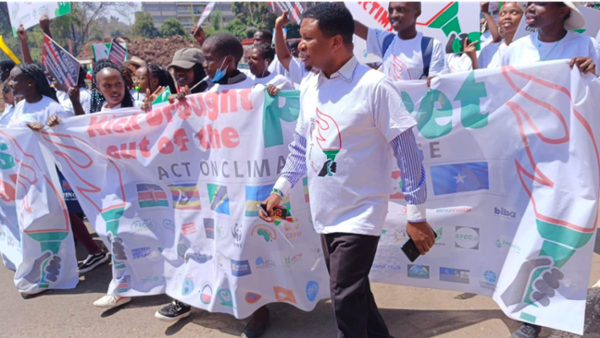 On March 20, 2019, Dr Mwenda was named among the "World's 100 Most Influential People in Climate Change Policy 2019" by the same foundation, the Apolitical.co.
A consummate climate change activist, Mwenda has over the years guided PACJA into a powerful network of over 1,000 African organisations that seek to influence climate change policies at national and global levels and make them more equitable and pro-poor.
From only a few countries at founding, with membership drawn namely in Kenya, Zambia, Zimbabwe, Cameroon, Ethiopia, Sudan and Nigeria, the Alliance has now expanded into 51 of the 54 African countries, challenging and engaging governments, regional and sub regional bodies on matters of climate change policies.
Through engaging in research, advocacy and campaigns, Mwenda's PACJA has influenced a number of policies in many African governments, the Pan African Parliament and at the African Union.
Through its influence, and by working through designated national platforms, PACJA has seen governments enact Climate Change Acts.
PACJA has grown to be a go institution for a number of global entities such as the World Bank, the UN, International NGOs, as well as regional bodies such as the African Union, among others.
The Apolitical.co Foundation has acknowledged his strong advocacy expertise in encouraging politicians in the global north to support environmentalist efforts in the global south.
Among other notable African climate activists named include Agnes Kalibata, agricultural scientist and policymaker who is currently president of the Alliance for a Green Revolution in Africa, and former Rwanda's minister of agriculture and animal resources; Vanessa Nakate of Uganda, known for the first Ugandan school strike activist and founder of Youth for Future Africa; Opha Pauline Dube, a world-renowned environmental change specialist and professor in Botswana; and, Mahama Kappiah, Executive Director of the Economic Community of West African States (ECOWAS) Centre for Renewable Energy and Energy Efficiency.