Officials on Tuesday, May 16, 2023, reported that cyclone Mocha, which hit Myanmar's Rakhine State, claimed over 400 lives and caused severe damage.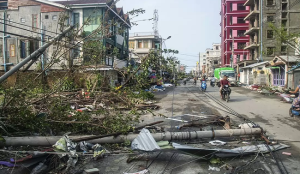 Ramanathan Balakrishnan, the UN relief coordinator in Myanmar, said: "It really is a nightmare scenario."
Mocha was the strongest cyclone to hit the region in more than a decade and its impact was especially felt in Rakhine, a state on the western coast which is home to Myanmar's persecuted Rohingya Muslim minority.
According to Balakrishnan, the cyclone struck the poorest parts of the country, which were already affected by the coronavirus pandemic, domestic conflict and economic problems.
"Now they are also on the front line of the climate crisis," he said, referring to the increasingly frequent weather extremes observed in the wake of climate change.
Most of those killed were Rohingya, a spokesman for Myanmar's opposition National Unity Government told dpa.
The National Unity government was formed after Myanmar's 2021 military coup as an alternative to the ruling junta.
It warned people about the cyclone in advance and has worked to organise international aid for the victims.
The tropical cyclone made landfall in Myanmar and neighbouring Bangladesh on Sunday with wind speeds of more than 250 kilometres per hour in some places.
The full extent of the damage, however, is only slowly becoming clear due to widespread cuts to communication lines.
The Irrawaddy news website reported hundreds of deaths in Rohingya camps around the city of Sittwe, the capital of Rakhine State. Many were said to have drowned or were hit by falling trees.
Since the coup, displaced people have been living in makeshift shelters in the region due to ongoing violence associated with the junta.
Many people had barely been able to shelter from the huge gusts of wind and heavy rain.
In both countries, hundreds of thousands of people were taken to temporary shelters as a precaution which saved many lives, the charity Oxfam said.
According to authorities in Bangladesh, no deaths have yet been reported there.
Nevertheless, the damage around the city of Cox's Bazar in south-eastern Bangladesh is substantial.
In Cox's Bazar, around one million Rohingya refugees from Myanmar live in the world's largest collection of refugee camps, mostly in dwellings made of bamboo and plastic sheets.
Even before the cyclone, the United Nations estimated six million people were in humanitarian need in the regions affected.