The Nigerian government has embarked on an initiative to tackle the harmful effects of Polychlorinated Biphenyl (PCB) in order to improve public health and environmental quality by preventing the release of the harmful chemical compound into the atmosphere.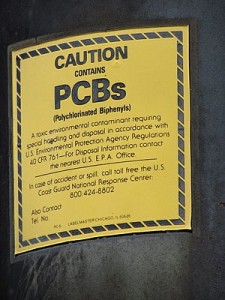 Minister of Environment, Hadiza Ibrahim Mailafia, who launched the project in Abuja on Monday, stated that it would ensure sound management and ultimate safe disposal of the poisonous pollutants from active and decomposed electrical equipment in PHCN (Power Holding Company of Nigeria) facilities, and from other private sector players such as oil refineries, airports, and textile mills.
She said that the PCBs are a class of organic compounds found to be fire resistant, stable, non-conductive to electricity and has a low volatility under normal conditions. These characteristics have made them ideal for industrial application and most used for as dielectric fluid in electrical equipment, from large transformers to small capacitors in lighting fixtures, she added.
Further, she noted that PCBs are extensively used as heat transfer fluids and as coolants for high temperature processes.
Nigeria has never been known to produce PCBs but has imported the product severally between the 1940s and early 1980s. The imported products were PCB-containing equipment such as transformers, capacitors and ballasts, as well as hydraulic fluid additives.
She stated that with the financial support from the World Bank's executed Canadian POP's Trust Fund, government carried out PCB inventory in the electric power generating, transmitting and distributing facilities spread across 10 states of the federation. She said that the project captured 10 percent of potentially contaminated electrical equipment in the power sector; the total amount of PCB- contaminated waste was estimated to be 3,400 tons. As a follow up, the Canadian Trust Fund on POP financed another study in 2009 called the 'Location and Assessment of the status of PCB-contaminated equipment' in all PHCN facilities. It reveals that an estimated conservation amount of 421tons PCB oil and 1,061 tons of PCB contaminated equipment are prevalent.
The minister disclosed that the ministry in collaboration with the World Bank established a project management unit (PMU), and concluded the appointment of qualified personnel to the various positions in September 2011. She stated that an inter-ministerial steering committee (already inaugurated) would provide overall guidance and direction for the project implementation.
According to her, the project hopes to increase awareness among key stakeholders and the general public, increase regulations and enhance physical facilities for the management of PCB containing equipment. It likewise hopes to improve national capacity to manage PCBs in an efficient and environmentally sound manner.
She added that the project wouldbe implemented in four components in order to achieve the stated objectives.
World Bank country's Director , Ms. Marie Francoise Marie-Nelly, who was represented by Badrul Haque, said that PCB project wouldbe implemented over four years period to December 2015 and the project is jointly financed by GEF to the tune of $6.2 million. Nigeria will provide additional matching fund of $12.2 million to eliminate environmental and health risks in the country posed by PCBs.
She stated that the ongoing $300 million Nigerian Energy and Gas improvement (NEGIP) project would benefit from the design of the PCB project.
Marie Francoise assured that the project would draw on the Bank's world wide experience in projects conducted in a variety of sector in which environmental health concerns have been steadily mainstreamed include mining, industry, energy, solid waste management, agriculture, health care and transport. Further, the bank focus is to address development of programme to phase out the production and use of toxic chemicals, identification of alternative technologies, and encourage safe disposal of existing toxic stockpiles.
She emphasised that the project is targeted to safely dispose 3,000 tons of PCB oils and 5,000 tons of PCB contaminated equipment to reduce drastically the dangers posed by these chemicals on the environment and humans.
By Laide Akinboade