Polish Ambassador to Nigeria, Mrs Joanna Tarnawska, says her country is ready to partner with the Federal Government on efforts aimed at curbing environmental challenges in Nigeria.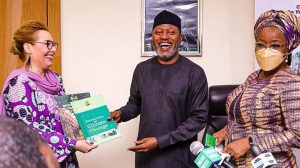 Tarnawska made this known when she paid a courtesy visit to the Minister of Environment, Alhaji Mohammed Abdullahi, on Tuesday, May 24, 2022, in Abuja.
Tarnawska said that the purpose of the visit was to partner "strongly" with Nigeria to have better discussions on best possible ways in addressing biodiversity and other environmental challenges for a cleaner environment.
"The Poland government is trying to take care of biodiversity in a way that Nigeria environment will be protected,; and with this meeting, we can establish serious cooperation between the ministry and Poland.
"What Poland is out for is just a sustainable transaction for a healthy environment, our aim is to achieve a supportable goal toward addressing environmental challenges.
"The collaboration will as well address issues at the National Park Service as some animals need to be protected."
The ambassador said one of the possible ways to safeguard the animals was to embark on effective awareness campaign to educate people on the dangers of killing or capturing such wildlife.
She, however, congratulated Abdullahi on his appointment as Minister of Environment, following his assumption of office in April.
On his part, the minister assured the ambassador of his ministry's collaboration with the Polish government, adding that it would be a great opportunity to work with such experienced and developed country.
He said that the collaboration would help to address not only the biodiversity and afforestation but would tackle other relevant environmental issues in the country.
"It is a great opportunity to collaborate with the country like Poland, to relate with the areas where we have interest, particularly the area of biodiversity and afforestation.
"President Muhammaddu Buhari in 2021 already mentioned the areas to focus on such as afforestation, tree planting and involving avenues and policies that will support and strengthen the ecosystem.
"The collaboration will give room for us to look into how we can exchange ideas and experience to tackle such challenges,'' he said.
Abdullahi assured that the ministry would work strongly with the Polish government to curb various  environmental issues and its challenges effectively.
Also, Minister of State for Environment, Chief Sharon Ikeazor, said that the collaboration was a welcome development, adding that the effort would address climate change and other environmental issues.
"We are delighted to see you in the ministry today, one area that Nigeria needs to focus more is the area of biodiversity.
"We know that with the issue of climate change, we will not be able to tackle the problem of biodiversity effectively, so it is important as your focus is on the biodiversity issue.
"So, we are looking forward to having a stronger collaboration with your government. We are ready to support and strengthen the partnership,'' she said.