While the industrial revolution raised the standard of living for Western states as early as the 1920s, Nigeria's discovery of crude oil was not until 1956. Over half a century into the production of crude which has delivered socio-economic advancements for well organised societies like Norway, Nigeria is yet to realise its long-awaited resource-led prosperity.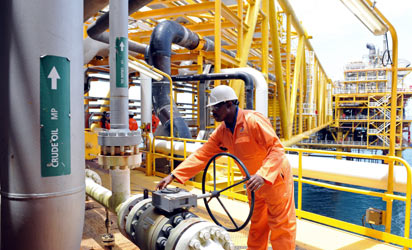 One would think being one of the 10 biggest oil exporting countries in the world should guarantee progression. But Nigeria's poor resource management and lax policy implementation coupled with corruption have stifled underdevelopment, fuelled inter-ethnic rivalries and stoke regional marginalisation. All of which comes at a price.
For instance, the ever-constant unrest in the Niger Delta region is strongly correlated to environmental despoliation in the wake of oil drilling. Lack of proper compensation to oil-bearing communities whose lands are being degraded with polluted streams and damaged agriculture are some of the externalities created by poor governance of oil resources.
Worse still, policies crafted to protect land and people are often not properly implemented for selfish reasons and citizens' wellbeing and livelihood are compromised by state brutality or the effects of environmental damage. Added to that is the dilemma that is climate change, the most defining challenge of our time.
As climate change poses a direct threat to countries globally, there has been a sharp turn in many places towards clean and renewable energy to curb emission and reduce the pressure that humans exert on the planet. Among the countries now pioneering green energy and leading the fight against climate change is China. Though still with the US the joint highest polluter in terms of overall carbon emission, China is now the world's leading nation in terms of investment in clean energy technologies, most prominently hydro/wind power.
China despite being the world's largest consumer of coal and the second-largest consumer of oil is gradually transitioning to low-carbon energy and power industries. In 2017, renewable energy encompassed 36.6% of China's total installed electric power capacity and 26.4% of total power generation.
So, it is both hypocritical and deplorable to witness China furthermore investing a wholesome $3 billion atop its $12 billion prior investment in Nigeria's oil sector. This investment benefits China more than it does Nigeria, especially when one considers China's ambition to surpass every other nation in clean and renewable energy production and consumption. China's need to secure fossil fuels is mainly energy related geopolitical concern. For China to reduce its dependency on fossil fuels, it will need to rebalance the economy away from energy-intensive industries, a smart strategic play Nigeria should learn from.
Investments in Nigeria's economy aimed at helping to turn around the failing oil-based economic model will be welcome. By contrast, investments that merely reinforce failed models without taking account of externalities such as the massive number of deaths arising directly or indirectly from air pollution should be discouraged.
Other challenges such as the acid rain destroying crops or affecting the human body are also worth mentioning. Unless addressed consistently, they risk spiralling out of control, exacerbating the plight of entire regions such as the innumerable cases of water pollution, land degradation, environmental warming, and the clear threats that these and other externalities of fossil fuel use pose to our civilisation, including sustainable agriculture.
Nigeria has earned large oil revenues over decades without much developmental achievements to show for it. The periodic celebration of spikes in global oil prices does little more than trap the common people in poverty, health risks, and compromised quality of life. The countries that benefit more from our oil production have achieved exponential growth and whilst they are moving forward to the next phase of innovation, Nigeria continues to count very little in the way of sustainable development.
For Nigeria to realise its clean energy potential, it must be steadfast in its push for divestment from the oil sector following the Norwegian example that has prohibited its oil-backed sovereign wealth fund from investing in hydrocarbon assets as a way of hedging its decarbonisation risk. We must use current ventures to stimulate a clean energy industry. Even government-led investment using public grants to incentivise renewables could launch us on the path to a greener future. Nigeria must enact functional environmental conservation policies and ensure their implementation to protect people, regions and our collective future.
Nigeria can boost her green performance using a combination of subsidies, policy targets and manufacturing incentives to drive energy production and expand access to affordable electricity. With the right approach to supporting innovation we can to join the rest of the world in going clean and green. The world is currently on the fast lane to sustainability and we do not want to play catch-up.
By Nasreen Al-amin (Executive Director, Eco-Africa, Nigeria)