The 22nd Session of the Conference of the Parties (COP22) and the 12th Session of the Conference of the Parties serving as the Meeting of the Parties to the Kyoto Protocol (CMP12) opened on Monday, November 7, at the Bab Ighli village site in Marrakech with the election of COP 22/CMP12 President Salaheddine Mezouar and the official transition from the French COP21 to Moroccan COP22 Presidency.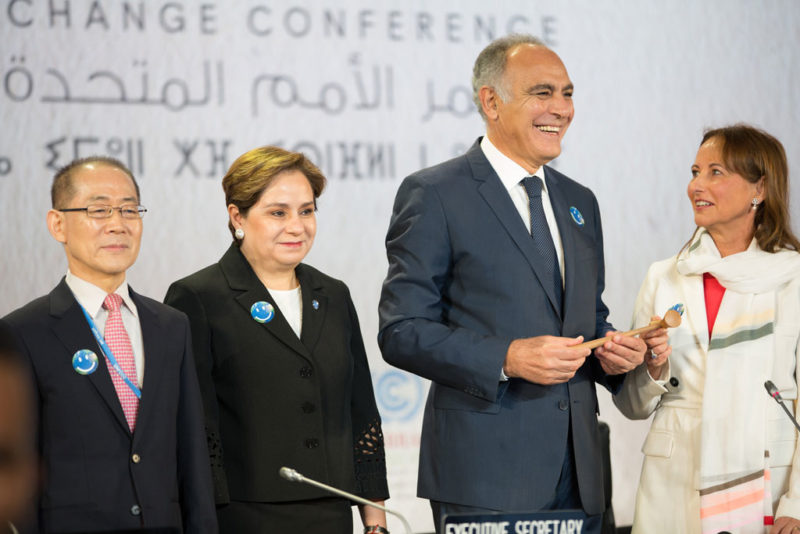 The official opening ceremony to the Marrakech Climate Change Conference featured remarks by COP22 President Salaheddine Mezouar, COP21 President Segolene Royal, UNFCCC Executive Secretary Patricia Espinosa, Intergovernmental Panel on Climate Change (IPCC) Chair, Hoesung Lee and the Mayor of Marrakech, Mohammed Larbi Belcadi, followed by a performance by a group of local drummers to set the beat for climate action over the next 11 days of the conference.
Segolene Royal opened the session by celebrating the entry into force of the Paris Agreement on November 4 and praised the close coordination between France and Morocco over the past year in the lead up to COP22.
"The rapid entry into force of the Paris Agreement is unprecedented and sends a powerful signal of world's commitment to combatting climate change," underscored the COP21 President.
Salahedinne Mezouar welcomed all participants to Marrakech for two weeks of climate action including the historic first meeting of the Parties to the Paris Agreement that will take place on November 15. The COP22 President called on all participants to commit to concrete climate initiatives and actions to support the most vulnerable countries to the impacts of climate change especially in Africa, least developed and small island developing states.  He announced that during COP22 Morocco, along with a number of partners will launch the National Determined Contributions (NDC) Partnership to build capacity and direct climate finance flows towards the most vulnerable.  He reiterated the importance of accelerating climate finance, innovation, transfer and capacity building to create the low-carbon economy the planet needs to stay below the 2 degree Celsius mark of global warming.
"Paris gave us a global commitment to climate change and COP22 in Marrakech will give us more ambitious climate action.  We must all rise to the challenge in support of the most vulnerable countries in the fight against climate change" underscored the COP22 President.
Patricia Espinosa emphasised the historic significance of Morocco and Marrakech as host of the UN Climate Change Conference.  COP7, held in Marrakech in 2001 produced the Marrakech Accords and COP22 will feature CMA1 and the first global climate action agenda that will feature thematic showcase events, dialogues and a high-level event to call on more coordinated and ambitious climate action between States and civil society.
"We need to work together with speed and scale on all fronts" said the UNFCCC Executive director.
The opening ceremony was brought to a close by an invigorating performance by a local traditional Moroccan drumming group, "Ostina Tono," who set the rhythm for the two-week climate action conference in the Ochre City.