Lack of local capital – one of the challenges facing large-scale renewable energy development in Nigeria – was the fulcrum of discussion at a recent forum as stakeholders sought a way out of the investment quagmire.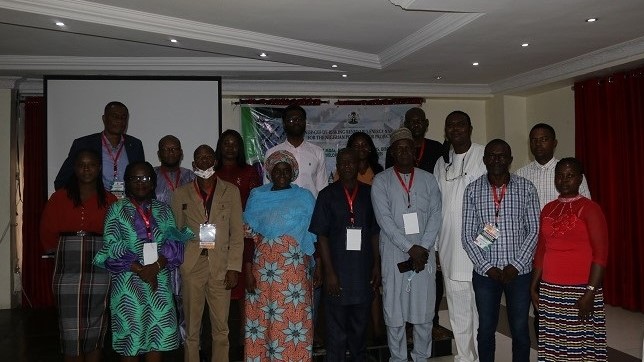 At a two-day Stakeholders' Consultative Forum on "Unlocking low-cost capital for grid-connected renewable energy investment in Nigeria" held from June 8 to 9, 2021 in Lagos, renewable energy practitioners and investors explored avenues for fresh financial opportunities amid reforms in the Nigerian financial sector.
The event was held under the De-Risking Renewable Energy NAMA (Nationally Appropriate Mitigation Action) for the Nigerian Power Sector Project, being promoted by Global Environment Facility (GEF) and United Nations Development Programme (UNDP) in collaboration with the Energy Commission of Nigeria (ECN). The five-year project commenced in 2017.
In his opening remarks, Prof. E. J. Bala, Director-General/CEO, ECN, submitted that the challenges facing large-scale renewable energy development in the country because the deposit money banks' (DMBs) liabilities (sources of funding), such as deposits and borrowings, are much shorter term than what would be needed to match the needs of renewable energy project finance.
"Secondly, DMBs only have limited access to foreign currency – most of their funding is Nigerian Naira (NGN) denominated. Thirdly, it is unlikely that any will yet have the internal capability to assess the credit and other risks associated with solar PV," Prof. Bala said, adding that, these notwithstanding, there is good reason to further explore supporting DMBs in addressing these barriers.
His words: "It is therefore commendable that the UNDP-GEF project made this attempt to assess the potential for domestic financial sector reform in Nigeria to unlock low-cost capital for green investment. This includes consideration of financial de-risking instruments for large-scale, grid-connected PV electricity generation."
In a presentation, Okon Ekpenyong, Director (Linkages, Research & Consultancy), ECN, stated that it is widely believed that large-scale deployment of solar PV electricity generation is a key area for addressing the nation's energy deficit but that the sector has been encountering financial challenges.
"In 2016, 14 IPPs were licensed to develop 14 projects in Nigeria and deliver over 1,075 MW generation capacity. Achieving this requires more than $1.6 billion investment, which could not be sourced. The Nigerian solar PV sector is however, for now, reliant on the international finance.
"The domestic financial sector could play a role in green investment, but currently no domestic financial institutions are willing or able to lend to these solar PV projects," he said.
To unlock low-cost capital for grid-connected large-scale solar PV infrastructure in the country, Ekpenyong suggested that DMBs should be provided access to lines of credit for green infrastructure, prepare means to refinance DMB loans post-project completion via debt-capital markets building on the Federal Government sovereign green bond, and build capacity for DMBs and selected national Development Finance Institutions (DFIs).
In a presentation titled "The macro-economic situation in Nigeria: Barriers to availability of low-cost capital for renewable energy investment In Nigeria", Boma Benebo, CEO-Soboms Nigeria Ltd/So-Konsult Business & Services, suggested that besides building the capacity of local financial institutions and devising policies to favour bankability of developers and affordability of renewable energy power by consumers, there should be an increase in informal financing options like the use of cooperatives and crowd funding.
"Innovative models should be adopted to improve uptake of solar home systems. Incentives should be put in place to encourage local production of solar products to reduce cost, promote technology transfer and create jobs. More grants should be given to reduce cost of renewable energy deployment," Benebo said.
While speaking on "Financial needs of solar-PV IPP projects in Nigeria", Dr Segun Adaju, CEO Consistent Energy Ltd. and President, Renewable Energy Association of Nigeria, recommended that the authorities should:
Prepare securitisation vehicle to help DMBs refinance initial project loans.
Provide access to longer-term credit lines to DMBs for green investment.
Work with NERC to address solvency challenges in the Transitional Electricity Market (TEM).
Develop a roadmap to listing of a solar Independent Power Producer on equity capital markets.
Create a strategy for accessing the international carbon markets under Article 6 of the Paris Agreement leading to $175-230 million foreign currency earnings from exports.
Carry out continuous stakeholder engagement.
In his paper titled "Financing of large-scale solar PV industry in Nigeria", Mr Adeleke Gbenga of Access Bank submitted that:
Policies/financial de-risking measures can reduce risk, and subsidies to enhance returns.
Direct financial incentives (price premiums, tax breaks, carbon offsets, etc.) to compensate for residual incremental costs and increase returns.
Cost reflective power pricing regime will de-risk grid renewable energy, and drive viability of the project.