The Development of Educational Action Network (DEAN) has called on the Federal Government to initiate the process of integrating environmental education into relevant subjects in schools to deal with the climate crisis in Nigeria.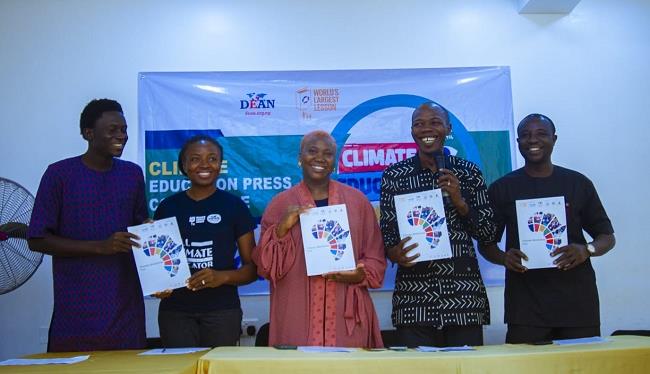 According to the organisation, if the call is well received, it will enable students to understand that climate change is not just a threat, but also a reality that is induced by humans in the quest to satisfy their socioeconomic desires.
The founder of DEAN, Michael Semiye, told journalists during the official presentation of the Climate Education Learning Curriculum for Climate Change Educators in Abuja that the need to bridge this knowledge gap inspired his establishment to partner with More Initiative for Africa (MIA) and the World's Largest Lesson (WLL) in 2020 to create adaptable climate education learning materials for students around the world.
As one of the countries selected to test the education pack, the scheme was rolled out in six Nigerian states namely Lagos, Ogun, Niger, Ekiti, Kwara, and Abuja, he said.
Semiye elaborated that his group worked with 32 trained educators to deliver contextualised climate change-makers classes as an extracurricular exercise in the aforementioned states. These resources, he hinted, capture all the issues and proffer solutions that would help future generations in the country to become climate champions.
He testified that the results of the exercise have shown explicit empirical confirmation of various scientific studies that prescribed ecological education as the best short and long-term measure to fight climate change.
"We are passionate about this because we believe climate literacy can give people the tools to engage meaningfully with governments and corporations to help deal with climate change," Semiye stated.
So, the educator and climate rights campaigner is pushing for the implementation of more urgent and sustainable actions to solidify ongoing climate interventions by the government and other relevant industry players.
He also wants the Ministries of Education, and Environment to superintend over the review process that will ensure the inclusion of climate education into the nation's academic curriculum.
In the same vein, Ms. Emikay Obeinde acknowledged the importance of educating school pupils on the basics of climate change, which she said can be enhanced if the right enabling environment is provided.
The climate educator with One Teacher Nigeria emphasised the significance of teaching young people and helping them learn how to appreciate and take good care of Mother Earth.
"All we are doing now is to raise awareness, but the next generation will carry on and finish what we have started," she submitted.
By Etta Michael Bisong, Abuja