The Socio-Economic Rights and Accountability Project (SERAP) has sued the Federal Government and the Minister of Power, Works and Housing, Babatunde Fashola, over "their collective failure, refusal and/or negligence toenforce their own directives to electricity distribution companies (DISCOs) to provide free pre-paid meters to all Nigerians and end the use of patently illegal, arbitrary, unfair and discriminatory estimated billing across the country."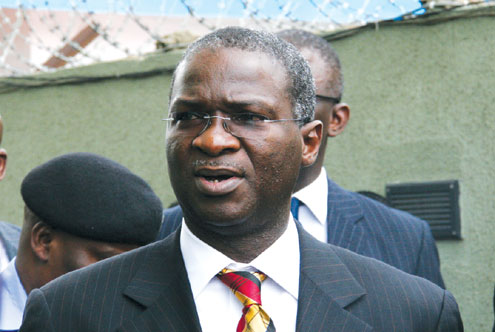 The application with suit number FHC/L/CS/906/17 was filed on Friday, June 10, 2017 at the Federal High Court in Ikoyi, Lagos. SERAP is arguing that, "by failing and/or neglecting to enforce his directives to DISCOs, Mr Fashola is implicitly promoting the use of unjustifiable estimated billing, and increasing consumer costs. The use of estimated billing is marginalising Nigerians living in extreme poverty, disproportionately affecting women, children and the elderly, and increasing their vulnerability to discrimination."
SERAP also argues that "Mr Fashola's constitutional and statutory responsibility is not just to give directives to DISCOs to provide free prepaid meters to all Nigerians but also to decisively enforce such directives and end the use of estimated billing. Effective access to electricity includes metering of all consumers. It is the responsibility of the Federal Government which has been assigned to Mr Fashola, and he cannot shy away from it."
SERAP further argues: "Unless the reliefs sought are granted, Mr Fashola and the Federal Government will not perform their constitutional and statutory responsibilities to enforce the directives to DISCOs to provide free prepaid meters to all Nigerians. It is in the interest of justice to ensure strict enforcement of directives, deadlines and regulations on provision of free pre-paid meters to all Nigerians, and an end to estimated billing."
The suit brought pursuant to Order 34 of the Federal High Court Rules and the inherent jurisdiction of the court, was signed by the SERAP deputy director, Timothy Adewale. The suit followed the organisation's request to Mr Fashola asking him to "urgently enforce your directives and discharge your ministerial and statutory duty to ensure completion of metering of unmetered customers and total abolition of estimated billing in the country."
The suit reads in part: "Access to regular electricity supply is a prerequisite for satisfying basic human needs, improving living standards, maintaining good human health, alleviating poverty and facilitating sustainable development. It's unlawful for DISCOs to disconnect electricity supplies on the basis of unpaid estimated bills."
"Obedience to the rule of law by all citizens but more particularly those who publicly took oath of office to protect and preserve the constitution is a desideratum to good governance and respect for the rule of law. In a democratic society, this is meant to be a norm; it is an apostasy for government to ignore the provisions of the law and the necessary rules and directives made to regulate matters".
"Electricity provides a safe means of cooking (through electric stoves) and food preservation (refrigeration). Electricity is therefore essential to agriculture and a prerequisite for food security. Electricity can also be employed to realise the human right to access clean water. Electric power operates pumps and sanitation systems so that drinking water is within the safe physical reach of all individuals and accessible by households, educational institutions and workplaces."
"Excessive billing of customers is arbitrary, unfair, unjust, unreasonable and exploitative of millions of socially and economically vulnerable groups. The apparent failure by Mr Fashola to exercise due diligence and effective regulatory oversight on DISCOs to ensure full compliance with the directives to provide free pre-paid meters to Nigerians has denied millions of customers' regular and uninterrupted access to electricity."
"For several years after the country's power sector was privatised, millions of Nigerian households particularly the socially and economically vulnerable sectors of the population continue to complain about outrageous bills for electricity not consumed, and poor power supply from distribution companies."
"Mr Fashola has issued several directives and deadlines by both his office and through the Nigerian Electricity Regulatory Commission for distribution companies to provide free pre-paid meters to all customers, but has failed, refused, and/or neglected to enforce the said directives, and millions of electricity users across the country remain unmetered."
"SERAP has a complaints hotline 080CALLSERAP and that by virtue of this hotline, the organisation receives numerous complaints and petitions daily that electricity consumers still get estimated bills and that DISCOs have refused to provide free pre-paid meters to consumers as directed by Mr Fashola."
"SERAP by a letter dated 22nd May, 2017, requested Mr Fashola to urgently enforce his directives to DISCOs to provide free prepaid meters to all Nigerians and end the use of patently illegal estimated billing. But since the receipt of the letter, and up till the filing of this suit, Mr Fashola and the Federal Government have so far failed, refused and/or neglected to enforce the said directives."
SERAP is seeking the following reliefs:
AN ORDER of this Honorable Court granting leave to the Applicant to apply for Judicial Relief and to seek an Order of Mandamus directing and or compelling the 2nd Respondent to enforce his directives to electricity distribution companies to provide free prepaid meters to all Nigerians, and end the use of patently illegal estimated billing.
AND for such order or other orders as this Honourable Court may deem fit to make in the circumstance.
No date has been fixed for the hearing of the suit.