With a huge potential for a robust fisheries supply system that includes a marine coastline of 550 kilometres, abundant freshwater bodies, dams and reservoirs, Ghana is able to meet just a little over half of her yearly fish requirements of 771,000 metric tonnes. The about 40 per cent shortfall in supply is supplemented through imports of over $200 million annually.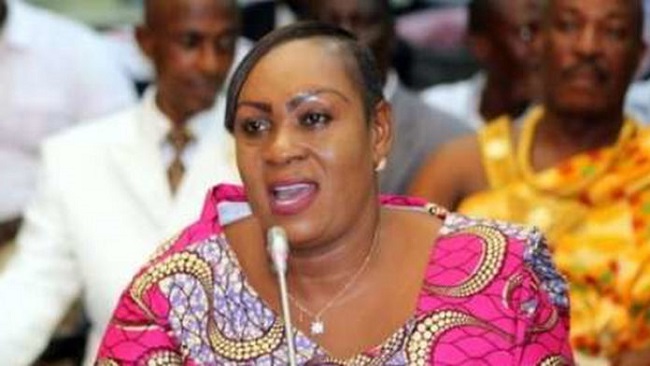 And this is an issue because, in Ghana, aquatic foods are essential for food security and critical for community livelihoods, contributing about 3.9 per cent to national GDP.
Hence the need to tackle the situation has become urgent, making Ghana an appropriate candidate for the One CGIAR Resilient Aquatic Food Systems for Healthy People and Planet (RAqFS) initiative, launched in Accra on Tuesday June 14, 2022. Ghana is one of 11 countries selected to benefit from the initiative. The others are Nigeria, Kenya, Malawi, Zambia, Bangladesh, Myanmar, India, Cambodia, Timor Lestor and Solomon Islands.
Ghana's Minister for Fisheries and Aquaculture Development, Mrs. Mavis Hawa Koomson, who launched the initiative, said it has come at an opportune period as it proposes to integrate aquatic production into water resources management plans to support the country's production system. This, she believes, is in line with her Ministry's Medium Term Development Plan and its flagship Aquaculture for Food and Jobs Project, currently on-going across the country as well as other projects including the One Village One Dam initiative.
Mrs. Koomson noted that, globally, the fisheries and aquaculture sector is a very important entry point for promoting development in line with the Sustainable Development Goals. While, continently, the sector is central towards contributing to African Union's Agenda 2063, and nationally it is in line with the government's development agenda to tap into the blue economy.
She commended One CGIAR for including Ghana, promising her Ministry's support towards the success of the initiative.
About the RAqFS Initiative
The Regional and Country Engagement Advisor for One CGIAR-Western and Central Africa, Dr. Kwesi Atta-Krah, said the RAqFS is one of the initiatives coming from One CGIAR's four major research groups.
They are Systems Transformation, which looks at the broader issues of policy and of institutions; Genetic Innovation Initiative, which is on research to improve the quality-of-life stock, fish and crops; and Resilient Agro Food Systems Group – with a focus on systems work and resilience at farm and land scape level, incorporating environmental and socio-economic concerns into the research. These three form the global research groups.
The fourth, is the Regional Integrated Initiative – a special programme focused on One CIGIAR's six target regions of Central West Asia and North Africa (CWANA), Southern Asia (SA), West and Central Africa (W&CA), South-East Asia and the Pacific (SEA&P), Eastern and Southern Africa (E&SA), and Latin America and the Caribbean (LA&C).
This will focus on the integration of issues within a specific region. The activities will be linked to those of the global initiatives, which will also be implemented within the regions. So no initiative will be a standalone, but all will form part of the family of initiatives.
From One CGIAR's perspective, what is most important about the regional and global initiatives and the linkage in their implementation is that "it must result in development, it must result in impact," says Dr. Atta-Krah.
"We are not just talking about publishing results in high quality journals and things like that. That is important. But the most important things are the impacts – we want to have impacts in five areas," he stressed.
Dr. Atta-Krah listed these five areas impact as: nutrition, health and food security; poverty reduction, livelihood and jobs; gender equality including youth and social inclusion; climate adaptation and mitigation; and environmental health and biodiversity. He emphasised that these should be the focus of all of One CGIAR Projects such as the Resilient Aquatic Food Systems, adding, "It must be clear which impact area you are going to contribute to. And sometimes you have an initiative that may be contributing to two or three impact areas."
The importance of this initiative lies primarily in how it is packaged to address the challenges that confront the potential benefits and undermine the resilience of aquatic foods systems. These include underinvestment in aquatic food systems research and development; power asymmetries that marginalise actors – particularly women – in food systems transformations and the blue economy; aquatic foods and associated livelihoods being overlooked in large-scale water resource management planning and underinvestment in genetic improvement for farmed fish limits productivity, profitability and resource use efficiency gains.
Dr. Atta-Krah is optimistic that the RAqFS initiative, informed by research, can address the threats, eliminate the key systemic challenges and offer transition pathways to a more just, nutritious, healthier, lower-carbon and climate-resilient food systems for nations, communities and people.
The Implementation Process in Ghana
Dr. Atta-Krah explained that, under One CGIAR's package for Ghana, the country is benefitting from several initiatives coming from the three global groups and also from the Regional Integrated Initiative. These are the: Harnessing Equality for Resilience in the Agri-Food System (HER+); Harnessing Digital Technologies for Timely Decision-Making across Food, Water, and Land Systems; Transforming Agrifood Systems in West and Central Africa (TAFS-WCA); and the newly launched Resilient Aquatic Foods for Healthy People and Planet (RAqFS).
The Co-lead of the RAqFS Initiative, Dr. Marie-Charlotte Buisson, provided more details on the initiative and said it has been categorised into five work packages, namely: Work Package 1 AquaData, Work Package 2 Aqua+Partners, Work Package 3 AquaPlans, Work Package 4 AquaGenetics and under Work Package 5 AquaLabs.
Dr. Buisson said two of the work packages are to be rolled out in Ghana. The first is Work Package 1 AquaData, which will address the lack of robust and clear data on aquatic systems, preventing the realization of the aquatic food system transformation. The aim is to examine existing data and produce new data to support evidence based decisions and actions by farmers, fishers, the private sector and policy makers.
The second is Work Package 3 AquaPlans, under which the implementing teams will work with users, implementers and scalars to co-design integrated investment packages to upscale multifunctional water and land scape innovations. The purpose is to reduce poverty, improve environmental and climate performance and sustain nutrition and food diversity, whiles improving resilience and aquatic agricultural production systems.
One CGIAR and IWMI
One CGIAR is a dynamic reformulation of the erstwhile CGIAR partnerships into a unified agricultural outfit that tackles the multiplying global challenges in an integrated holistic manner for collective gain. Its vision is to have a world with sustainable and resilient food, land and water systems that deliver diverse, healthy, safe, sufficient and affordable diets, and ensure improved livelihoods and greater social equality, within global and regional environmental boundaries.
For coherency in delivery of regional project activities, Regional Directors have been assigned to each of its six regions, with Country Conveners for each country, to help bring about coordination, integration, facilitation and harmonization. Ghana's Country Convener is Dr. Olufunke Cofie, who is also the Country Representative of the International Water Management Institute (IWMI).
As One CGIAR's lead research institute, IWMI brings scientific expertise to bear on development challenges and in this wise, has for the past 20 years been addressing water and land related issues in Ghana. The Institute is committed to pay continues attention to water challenges and water solutions that can help drive Ghana's development agenda.
By Ama Kudom-Agyemang