About 25 youth representatives across Nigeria gathered in Lagos on Friday, November 22, 2019 at a forum that set out to build their creative capacity and strengthen their collaboration in climate change advocacy.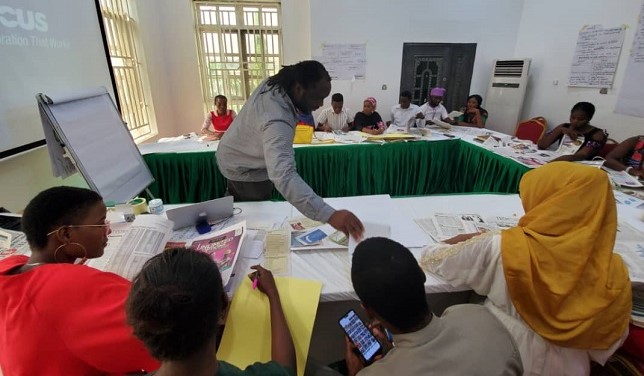 The Creative Climate Campaign Workshop held at the instance of the International Climate Change Development Initiative (ICCDI).
With Nigeria as a member of the United Nations Youth Mobilisation and Public Engagement track at the Climate Action Summit 2019, the workshop aimed to stimulate a creative approach to climate advocacy, accelerate response from the government and expose participants to global activism.
Stating the timely need for organising the workshop, ICCDI Africa's co-founder, Esther Agbarakwe, who is a member of the UN SDGs and Climate Action team, commended Nigerian youths for taking the lead in driving the climate conversation.
Leading the first session of the workshop, Nonso Jideofor and Anca Matioc helped the participants understand how to apply Design Thinking in Campaign, pointing how difficult yet undermining it could be to define a problem which is the first step to designing a solution to a problem.
The practical art session was coordinated by Ifesinachi Comedy Nwanyanwu, an award-winning self-taught visual artist and environmental activist who has been using waste to create conversational art pieces for almost two decades.
Using old newspapers, cartons, gum and used plastics, Ifesinachi thought participants to rethink resource use and embracing a circular economy.
Other leading actors in Nigeria's environmental and advocacy sectors like Hamzat Lawal, Seyifunmi Adebote and Rotimi Olawale were present at the workshop to lead sessions like: Linking Environmental Campaigns with Civic Engagement, Improving Youth Engagement in the Global Climate Negotiations and Building relationship with established social drivers.
Speaking after the event, one of the participants, Temilade Salami, said: "The Creative Climate Campaign was really amazing. We learned from the experiences of thought leaders like Hamzat Lawal, Esther Climate and Rotimi Olawale. We also improved our abilities to leverage teamwork for improved productivity."