A group of environmentalists has called on government to create an incentive for intensive engagement on climate resilience measures in the economy.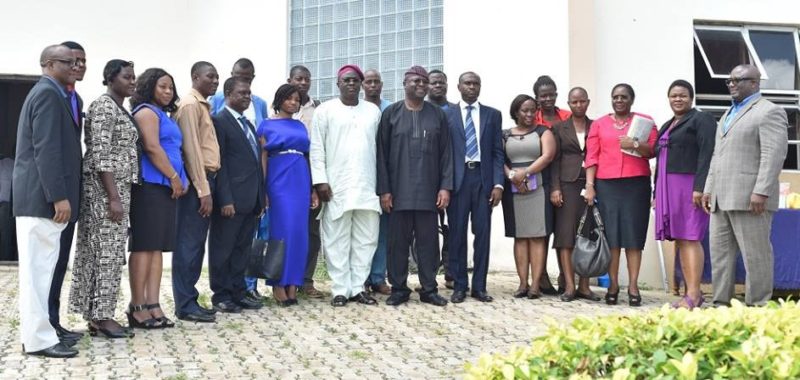 Participants at the 6th session of the Development Dialogue on Climate Change and Renewable Energy that held recently at the Federal University of Technology, Akure (FUTA) in Ondo State, who made this submission, emphasised that the dialogue provided considerable insight and knowledge on climate change issues and climate action projects they could initiate.
Apart from providing the opportunity of earning higher incomes through low-carbon projects and carbon rebates, the day-long session, the participants agreed, also provided an avenue whereby networks in climate change were created and opportunities opened.
Themed: "Climate Change: Cross-Sector Scaling of Mitigation and Adaptation Initiatives in Nigeria" and organised by the Carbon Exchange Trade in Collaboration with FUTA, SMEFUNDS, New Nigeria Foundation and Noaz International, the forum, it was gathered, created a platform whereby professional partnerships were brokered and output from Nigeria's Climate Action Forum communicated to the global audience.
Apart from creating a platform for the attainment of the Sustainable Development Goals (SDGs), the forum was described as a local action in line with the United Nations Framework Convention on Climate Change's (UNFCCC) Climate Action in global intensification of knowledge and capacity through advocacy on climate change.
In view of the need to create awareness on the debilitating effect of climate change on national economies and how to mitigate its effect especially in the country, the Africa Roundtable on Climate Change under its Climate Action Forum in Nigeria, a coalition of local action groups, hosts regular Development Dialogues on Climate Change, Renewable Energy and Carbon Emission Reduction.
The FUTA session, according to the organisers, was designed to enable academic institutions to endow research and projects on climate mitigation and adaptation including climate smart agriculture, renewable energy as well as carbon emission and landscape resilience.
Prof Adebiyi Daramola, Vice Chancellor of FUTA, said the overall advantage of the Dialogue would be seen in climate change mitigation, adaptation and finance which are critical to building both economic, social and environmental resilience, scaling clean projects in sustainable landscapes and cities, biodiversity preservation as well as renewable energy, energy efficiency, environmental screening and monitoring and value-chain development.
Prof. Olufemi Ajibola, chairman of the session and Managing Director of New Nigeria Foundation, said issues on climate change are relatively new therefore there is need to create increased public awareness. He said an alternative to oil is imminent giving the drop in oil prices globally, adding that it is unacceptable for the country to overlook the opportunities of the new energy solutions, and so it is imperative to harness alternative resources in solving the problems of the country.
Director of CERAD, Professor Ayorinde Olufayo, was optimistic that the dialogue would provide linkage to global climate change and renewable energy and create technologies for ecosystem that will aid livelihood resilience for rural communities.
In a presentation titled: "Mitigation and Adaptation Initiatives for Sustainable Economic Development", Innocent Azih, Director, Carbon Exchange Trade, said mitigation of climate change would be achieved through policy measures that emphasise scaling of climate friendly products and technologies, climate regulations, low-emission transportation and building construction as well as adaptation practices such as Climate Smart Agriculture (CSA) and stable long term financing for new greenhouse gas (GHG) mitigation technologies.
While highlighting mitigation measures and policies, Azih posited that climate change recognition now identifies climate-friendly products and technologies as well as slow and long term financing from GHG technologies. He also identified carbon pricing as an effective mitigation measure as well as private sector response in the form of clean energy projects such as solar energy and clean cooking technologies.
In a presentation that explored research readiness for local action on climate change, Director, Centre for Renewable Technologies (CRET) at FUTA, Professor Olurinde Lafe, stressed the need for concerted efforts to globally address climate change. He said local actions which include legislation, advocacy and adoption of a clean development mechanism would have great impact in mitigating the effects of climate change.
Professor Lafe said Nigeria has abundant renewable energy sources in the form of solar, wind, biomass, gas thermal, ocean waves and tides, adding that there are research opportunities for project development in renewable energy sources through the use of available energy conversion technologies and waste to energy opportunities. He said opportunities abound in local action which according to him will solve employment problems and at the same time resolve the energy challenges facing the nation.
Professor Lafe outlined top research and development topics for local action which include: harnessing multiple renewable energy sources, distributed energy generation, micro grids high capacity energy storage, fuel cells and smart building architecture and engineering.