Member groups of Friends of the Earth International (FoEI) have called on governments of Africa to look beyond oil in their quest for development. The call was made at a conference on Just Energy Transition orgamnised by the Environmental Rights Action/Friends of the Earth Nigeria (ERA/FoEN) in Abuja.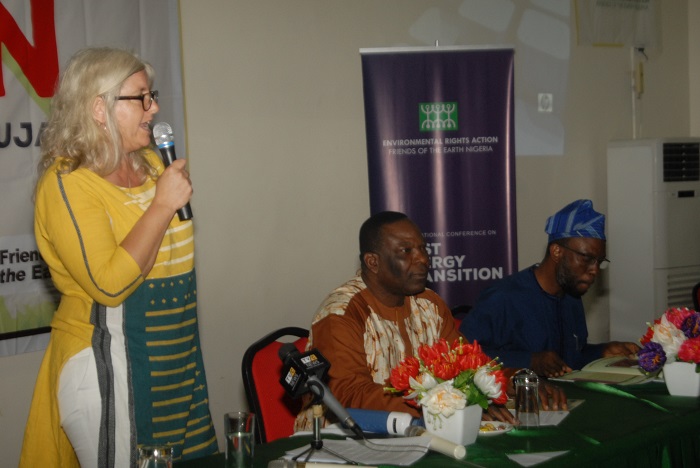 In his opening remarks, Dr Godwin Uyi Ojo, Executive Director, ERA/FoEN, said that while Nigeria and other African countries continue in the quest to transit from oil, the developed world should not exploit this quest to recolonise Africa and perpetrate inequalities.
Ojo noted that while there has been tremendous growth across the globe from the start of the industrial revolution to the present, the consequence of unrestrained economic expansion has been the incredible increase in greenhouse gas emissions and the warming of the climate.
He disclosed that scientists recently revealed that the warmest years recorded in history have occurred in the last five years and that every year gets progressively warmer than the last with many communities experiencing first-hand, the impact of the climate crisis.
He also pointed out that a recent Inter-governmental Panel on Climate Change (IPCC) special report released on October 8, 2018 paints a frightening scenario of "irreversible impacts on humans and the ecosystem if we fail to act."
The same report, he said, calls on the global community to act immediately and show more ambition so that rising temperature does not exceed the 1.5-degree Celsius threshold, if the earth is to have the opportunity of containing the impacts of climate change.
To achieve this there must be comprehensive phase out of fossil fuels, faster electrification, lower energy demands, changes in consumption and dieting patterns as well as protecting and restoring degraded ecosystems.
Because of these, he said there is need for urgency and ambition for a Just Energy Transition which developed nations have leapfrogged into.
According to him, the national budget for renewable energy has reached an investment of US$286 in 2015 alone.
Despite this, he explained that more than 1.6 billion people have no access to electricity and about 2.4 billion depend solely on fuel wood.
"The rising energy demand is also leading to increasing violent resource conflicts at the sites of extraction. Nigeria is nowhere near meeting its nationally determined commitment to addressing climate change and reducing carbon emissions. About 70 percent of the 170 million population depend solely on fuel wood for energy and representing one of the world's highest deforestation rate of 3.5 percent annually."
He added however, that, "while over-consumption continues unabated in rich and industralised countries, others that are less endowed face energy poverty on a daily basis. Energy Colonialism is killing Africa and replicating already existing inequalities in renewable energy access hence the need for Energy Democracy. "
The ERA/FoEN boss noted that, theoretically, Nigeria has shown some ambition to reduce its carbon emissions by 20% unconditionally and 45% conditionally by 2030 given the needed finance and technology by rich countries.
He however pointed out that one fundamental challenge facing Nigeria and other African countries is minerals and oil-dependency on raw materials and sources of revenue.
ERA/FoEN, according to him, has a manifesto on the way forward. He said the conference, which coincides with the 25th anniversary of ERA/FoEN, presented the opportunity to present the manifesto to the Nigerian government.
The event was graced by representatives of government, civil society and communities from across Africa, Latin America, Asia, United States and Europe. Speakers included Karin Nansen, chair of Friends of the Earth International; Professor Lanre Fagbohun, the Vice Chancellor of Lagos State University; and Comrade Uche        Onyeagucha, former House of Representatives member, among others.