Director, Health of Mother Earth Foundation (HOMEF), Nnimmo Bassey, has cautioned African governments anticipating that the continent will develop through fossil fuels extraction and investments in dirty energy to brace up to the fact that the African continent will soon becoming dumping ground for obsolete technology as the rest of the world moves away from fossil fuels.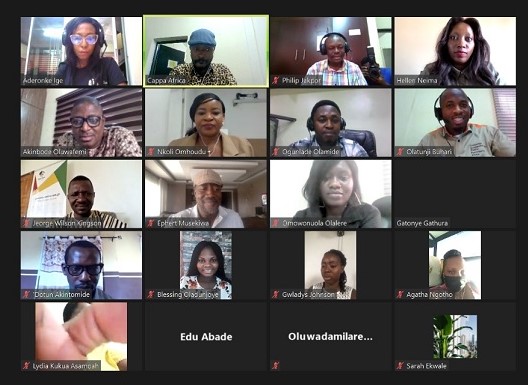 Bassey also said that beyond the health hazards associated with extractivism, the African continent is now replete with exploitative markets, militarised communities, and contract labour, that combined, keep the people in bondage and the continent under-developed.
The HOMEF director made these remarks in his presentation on "Fossil Fuels Industry & Climate Change" at a two-day virtual journalism training on climate change reporting in Africa organised by Corporate Accountability & Public Participation Africa (CAPPA). It had participating journalists from Cameroon, Ghana, Kenya, Nigeria, South Africa, Uganda and South Africa.
The objectives of the journalism training which held from April 28 to 29, 2021 include raising the bar in climate reporting in the African region, amplifying the Make Big Polluters Pay campaign and the Liability Roadmap within the region, and birthing a journalist network on climate reporting in the African region.
Bassey listed oil extraction and gas flaring, coal mining, and gold mining, as some of the extractive activities that have unleashed what he described as "ecocide" on the continent, even as he warned that new projects such as the $11 billion Dangote Refinery and Polypropylene Plant in the Lekki Free Trade Zone area of Lagos would further aggravate the situation.
According to him, capitalist development which has kept Africa underdeveloped since the 19th century has been powered by coal, oil, and gas even as he added that extractivist pathways have been entrenched as a mechanism for colonial and neo-colonial plunder and construction of dependency.
In her intervention, Ndivile Mokoena, project officer of GenderCC – Women for Climate Justice, stressed that in climate reports emanating from Africa the focus is always the environment, with little or no emphasis on the intersectional impacts of climate change such as gender, socio-political and economic impacts.
With specific emphasis on gender impacts, Ndivile stressed that while women carry some of the greatest burdens of the environmental and climate crisis on the continent, they are usually left out in the decision-making and solutions pathway.
Her recommendations on the way forward include the participation of women and vulnerable groups in environmental and climate change policies, change of current energy models, new food for food justice, and switch to renewables. Others are mitigation measures to reduce greenhouse gas emissions, adaptation to deal with climate change and preparing future coping mechanism, and divestment.
Speaking on "The case for holding Big Polluters liable", Rachel Rose Jackson of Corporate Accountability explained that climate change is an existential threat caused by fossil fuels corporations.
Jackson noted that the fossil fuels industry knew the cultural, social, financial, and human costs of climate change but chose to fund denial science and reckless extraction because of their greed for profits.
Added to this, the industry has initiated and continues to promote false solutions such as geoengineering, forest offsets, Reduction of Emission on Deforestation and Forest Degradation (REDD), carbon markets, and more recently, the contentious NET Zero initiative.
She revealed that even as the fossil fuels industry claims it is cutting down on emissions, their profits have continued to grow. While the fossil fuels industry raked in $1.3 trillion in profits, their agribusiness partners made $432 billion.
She went further to point out that to expose the industry lies and confront them thousands of climate justice groups and individuals have advanced the cause for making the industry liable for their activities through the Make Big Polluters Pay campaign which started in 2019 and the Liability Roadmap – a set of legal resources that frontline groups, communities and governments can access to seek justice. The roadmap will unlock urgent funds needed to address the climate crisis.
Akinbode Oluwafemi, Executive Director of CAPPA, in his presentation on "What Makes a Good Story", said that a report that will elicit interest must have the elements of immediacy, proximity, prominence, oddity, conflict, suspense, emotion, and consequence.
Oluwafemi also recommended that journalists take a position on issues of climate justice and not sit on the fence as the fossil fuels industry would want them to.
Earlier, in his presentation on "Introduction to Climate Change Reporting", Philip Jakpor, Director of Programmes, CAPPA, said that climate change reports by African journalists are usually all about gloom and doom, and leaves a lot of gaps which he termed "missing links".
The gaps according to him, are inadequate background to stories, inappropriate language in reporting climate change, lack of proper identification of drivers of climate change, and absence of differentiated impacts of climate change, and No call to action, among others.
Other presentations were by Hellen Neima, Regional Director of Corporate Accountability Climate Campaign who spoke on "Understanding Climate Treaties and Conventions", and Jesse Bragg, Media Director of Corporate Accountability who spoke on "Capturing the International Audience".