Washington Post published an opinion piece written by Nigeria's President Muhammadu Buhari entitled, "How Not To Talk With Africa About Climate Change".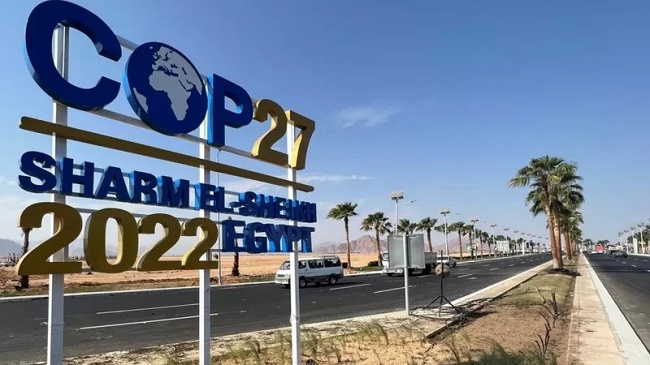 The article, apparently timed to coincide with the UN Climate Change Conference (COP27) in Egypt, summed up where Africa stands when it comes to collective global action on climate change.
"If Africa were to use all its known reserves of natural gas – the cleanest transitional fossil fuel – its share of global emissions would rise from a mere three per cent to 3.5 per cent.
"Don't tell the poorest in the world that their marginal energy use will break the carbon budget – only to sign off on new domestic permits for oil and gas exploration," Buhari wrote.
But beyond its screaming headline and the direct dig at the Western, Buhari's well-outlined arguments make for a useful template African countries could use at COP27 negotiation table.
For instance, he talked about how many African leaders are frustrated with rich countries' inability and unwillingness to meet their commitments of $100 billion fund for climate adaptation and mitigation in the developing world.
He also made a strong appeal for big polluting countries to direct a greater share of funding to developing nations' adaptation to the effects of climate change.
He noted: "Most financing currently flows toward mitigation projects, such as renewable energy projects, that reduce emissions."
It is easy to see why Buhari and other African leaders feel hard done by whenever the issue of commitment to reducing greenhouse gas (GHG) emissions is being discussed.
Africa is not only the least-polluting continent at three per cent; it is also the most vulnerable continent to climate change impacts under all climate scenarios above 1.5 degrees Celsius.
According to an African Development Bank report, Africa's high vulnerability stems from three factors. First, sub-Saharan Africa has 95 per cent of global rain-fed agriculture.
Also, weather-sensitive activities, such as crop and livestock farming, contribute largely to GDP and employment. Thus, some of the direct effects of climate change will be income losses and increased food insecurity.
Lastly, at least six of the 10 countries that are most vulnerable to climate change are in Africa. Already, Somalia and other countries in the Horn of Africa are facing the worst drought in 40 years.
This is why experts have criticised the agreements reached at COP27, saying they lack ambition and are not far-reaching enough, especially when it comes to the issue of loss and damage fund.
At COP26, parties agreed under the Glasgow Climate Pact to, among other things, accelerate action on climate change, deliver on climate finance, step up support for adaptation and focus on loss and damage.
UN Special Rapporteur on Human Rights and Climate, Ian Fry, recently expressed hopes that "rich countries build further momentum and get it done.
"There are major developed countries that are quite concerned about it and looking at this issue from the perspective of what the polluter pays.
"Now, the countries most affected by climate change and suffering the costs are having to deal with those costs themselves.
"So, it's time the big countries, the major emitters, stood up and said, 'we've got to do something, we've got to make a contribution to these vulnerable countries'," he told UN News.
Although COP27 finally reached an agreement towards climate justice by establishing a loss and damage fund, there was no concrete commitment towards the operationalisation of the fund.
UN Secretary-General, António Guterres, admitted to this when he responded to the agreement by saying, "Clearly this will not be enough, but it is a much-needed political signal to rebuild broken trust."
Much has been said about the Paris Agreement or the Paris Accord as it is known in some quarters, a rallying point international treaty on climate change adopted in 2015 and signed by 195 countries.
Its goal is to limit global warming to well below 2, preferably to 1.5 degree Celsius, compared to pre-industrial levels through mitigation, adaptation and finance.
Surprisingly, African countries have shown great commitment when it comes to taking climate action in reducing their already small GHG emissions.
For instance, Nigeria recently updated its Nationally Determined Contribution (NDC) to the United Nations Framework Convention on Climate Change in line with COP26 agreements in Glasgow.
The NDC is a country-by-country climate change action plan committed to cutting GHG emissions and adapting to climate impacts within the Paris Agreement.
According to the UN Climate Action, each party to the Paris Agreement is required to establish an NDC and update it every five years.
Under the updated NDC, Nigeria intends to eliminate the use of kerosene lighting by 2030, increase the use of buses for public transport and reduce the burning of crop residues by 50 per cent.
The updated NDC also aims at improving air quality and reducing GHG emissions through specific mitigation measures in eight source sectors.
However, such laudable commitments and many others by African countries, depend on three areas of support by their rich high-polluting counterparts – financial, technical and capacity building.
Unfortunately, high-polluting countries have fallen short when it comes to matching words with action.
To this end environment experts say rich countries should be more committed to the UN Executive Action Plan for the Early Warnings for All initiative.
The action plan calls for initial new targeted investments of $3.1 billion between 2023 and 2027. Yet, based on previous experience, there are reasons to doubt their commitment.
As emphasised by Buhari, annual Conference of Parties conferences will be a mere talk shop if just energy transition partnerships and climate justice are swept under the carpet.
And, unfortunately, COP27 has not done enough to address those issues.
By Kayode Adebiyi, News Agency of Nigeria (NAN)