Whilst the inclusion of references to phasing out coal and fossil fuel subsidies in the draft text from COP26 in Glasgow are welcome, the glaring omission on clear commitments for loss and damage finance and adaptation support is a serious cause for concern, Climate Action Network (CAN) media briefing on Wednesday, November 10, 2021, heard.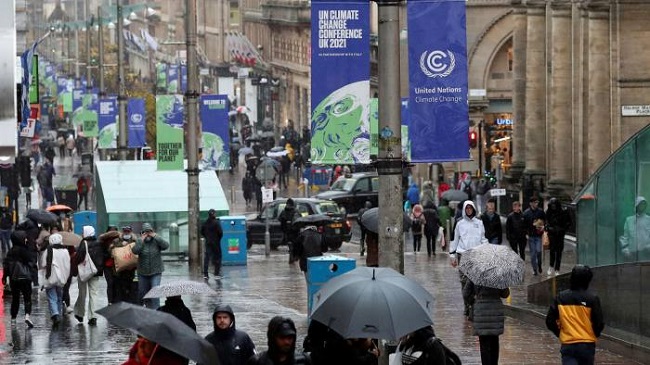 The speakers on the media briefing highlighted that there was no acknowledgement on the failure of rich countries to mobilise the $100 billion climate finance promise nor clear commitments on a specific finance stream for loss and damage. The exclusion of oil and gas from fossil fuel phaseout and the lack of clarity on an annual revision of climate targets to bridge the ambition gap was a red flag that the COP might miss out keeping the Paris Agreement goal of 1.5C in sight.
Speakers also warned that the oversized presence of fossil fuel lobbyists in COP26 was a reminder that those trying to burn down the table must not get a seat at the table. The influence of fossil fuel lobbyists risked COP26 becoming a sham and failing to deliver on any real solution to the climate emergency.
Teresa Anderson, Climate Policy Coordinator, Action Aid International, said on the latest text: "Where is the support to help people forced to pick up the pieces after climate disasters? Where is the action to meet all this talk of urgency? Where are the real commitments that the world needs to limit warming to 1.5C, or to back up the need for action with climate finance?
"With this text our leaders are failing us all. These empty words are way off target to meet the scale of the enormous challenge facing humanity."
Mohamed Adow, Director, Powershift Africa, said: "This is currently a very lopsided document. On one side of the scales there is lots on the process for accelerating emissions reductions. For the first time a COP text explicitly calls for phasing out coal and fossil fuel subsidies. This is progress as these aren't even mentioned in the Paris Agreement. But on the key demands of vulnerable countries there is very little.
"On helping these countries adapt to climate impacts and deal with permanent loss and damage it is very fuzzy and vague. The fact that the deadline for the long promised $100 billion of climate finance from rich countries has been missed doesn't even get mentioned. This was a specific ask for poor countries."
Tzeporah Berman, Chair of the Fossil Fuel Non-Proliferation Treaty Initiative & International Program Director of Stand.Earth, said that it will not be possible to meet goals of the Paris Agreement unless the expansion of oil, gas and coal is addressed.
Berman noted: "For the first time there is a real conversation and some commitments to end the expansion of oil, gas and coal at the climate negotiations. This must be reflected in the text and countries must commit to stop financing and approving fossil fuel expansion at home and abroad.
"Wealthy countries must act first. The Beyond Oil and Gas Initiative, which launches tomorrow, is a huge step in that direction and so is the 150 parliamentarians from 31 countries, led by leaders in the Global South that today, called for an end to fossil fuel expansion and a fair phase out. It's simply not a transition if we continue to grow the problem."
Pascoe Sabido, Researcher and Campaigner, Corporate Europe Observatory, said that if the fossil fuel delegation at COP26 was a country, it would represent the world's biggest at the talks.
He said: "The fossil fuel industry has more lobbyists at COP26 than any national government, completely dwarfing the delegations of the world's most climate vulnerable countries and indigenous peoples. This is the same industry that has spent the last 50 years denying, delaying and blocking climate action, so how on earth are they still allowed in?
"The only way we're going to leave these talks with anywhere near the ambition needed is if we kick these big polluters out. Those trying to burn down the table should not have a seat at it."
350.org campaigners have also reacted to the draft text decision.
Cansim Leylim, spokesperson for 350.org, said: "This draft decision has some important points in it that are worth celebrating. For example, there's a decision to do yearly synthesis reports – if this can be done without creating an additional burden on countries from the Global South this means we can stop governments spreading misinformation on how their pledges will help us keep to 1.5-degree warming. This is essential as we are still on track to nearly three degrees of heating which is devastating for communities around the world, especially across the global south.
"The text calls for phasing out coal use and fossil fuel subsidies, this is the first time fossil fuels are named in 25 years of UN climate negotiations and that is a huge testament to the people power and grassroots actions that has pushed continuously for the end of fossil fuels. But ending just coal is not enough.
"All fossil fuels need to be phased out. By focusing only on coal, we risk creating a dynamic in which poor countries with coal infrastructure are punished while rich countries with more fossil gas in their energy mix are rewarded. Fossil fuels need to go all together."
Agnes Hall, spokesperson for 350.org, said: "As ever it's not what the text says but what it doesn't say, there is still a glaring emission of any financial aspects of the deal. If developed countries don't put their money where their mouths are, then this is all just hot air. We are yet to see what the final text will look like, but now is the time to raise our voices at the UN climate summit.
"It is critical for countries if they are to adapt and mitigate the impacts of climate change that we see significant movement on finance. We need to mobilise to make sure that whatever states are committing to, will be implemented faster and bigger. Besides finance, there is also no mention of the negotiations on transparency, carbon markets, loss and damage, and these will be crucial to deal with later this week."