International experts in water sector have expressed worry over unprofessional and unscientific extraction of water resources through mass drilling of boreholes across the country.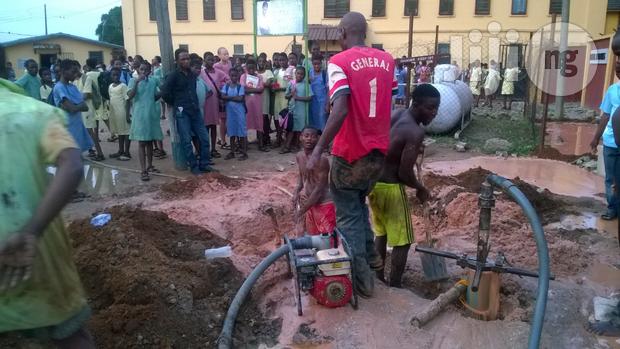 They made the observation at a workshop organised by the Nigeria Hydrological Services Agency (NIHSA), in collaboration with the International Atomic Energy Agency (IAEA) on Thursday, January 24, 2019 in Abuja.
Ms Lawrence Goorcy, an IAEA expert, said the aim of the event was to carry out analysis to ascertain the level of groundwater in order to prevent water crisis in the country.
Goorcy, who is also a Hydro-geologist, said that a team of hydro-logical management experts has been in the country for a week for critical examination of the nation's groundwater resources.
"From our evaluation, there are gaps in the aquifer, and we are here to adopt scientific approach because this has affected some parts of the country.
"That is why sometimes we will have shortage of water in some parts of the country," she said.
Earlier in his opening remark, Mr Clement Nze, Director-General, NIHSA, said the workshop was aimed at implementing Technical Cooperation (CT) project, tagged: "RAF/7019".
According to Nze, the CT project will be implemented through International Water Availability Enhancement projects which embrace experts from international body to investigate Nigeria's water resources management.
Nze said the rate of extraction of groundwater resources in Nigeria had become alarming, hence the need to engage international experts for critical examination to prevent the country from running into water crisis in future.
"If we are able to get proper rate at which groundwater is being replenish or recharged, we will be able to advise properly the rate at which we can engage in boreholes drilling.
"Our operation is just like we are mining without being replenished which lead us to water crisis.
"There is completely risk of depletion of water, like in Maiduguri in particular, there are three levels of aquifer.
"The first one is from 0 – 150 meters deep, the second aquifer level is between 150 – 250 m deep, the third one is 250 to 600 meters deep.
"It is observed that we have finished the first level and if we don't guide against the rate at which people are extracting water from the ground, it might result in depletion of the second aquifer," he said.
Also, Alhaji Suleiman Adamu, Minister of Water Resources, who welcomed the experts in his remarks, explained that the goal was to help government to tackle groundwater related issues in the country.
By Okon Okon